Coalition 'losing its way' on public sector reforms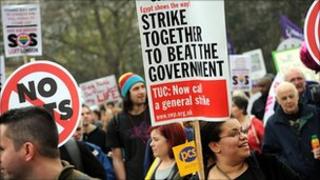 The coalition is "losing its way" over its promised public sector reforms in the face of union pressure and fears of a public backlash, the CBI has said.
The business group's deputy director general said the planned NHS shake-up had turned into a "debacle".
And Neil Bentley urged ministers to ignore the "forces of inertia" and push on with public sector pension changes.
The PM's spokesman has said the delayed public services reform white paper will be published before the summer recess.
But the criticism from Mr Bentley comes amid reports that the government's blueprint for public sector reform will not be published until the early autumn.
In a speech in Surrey, Mr Bentley praised the government's progress in some areas, saying it had hit targets for efficiency savings, improved government procurement and given a greater role to private firms in its welfare-to-work programmes.
'Losing momentum'
But he said ministers promised a white paper setting out their vision for greater productivity in the public sector in February and - four months on - it was no clearer when this would be delivered.
"After all this time, this ongoing uncertainty - combined with the debacle over NHS reform - clearly calls into question the coalition's commitment to reform," he said.
The government's rethink on its proposed shake-up of the NHS in England was a "missed opportunity" and would have serious consequences for the health service, he argued.
"We have seen the forces of inertia in the NHS triumph on health reform. Patient services will only be improved if the NHS is opened up to far greater competition and dependence on hospital care is reduced."
Mr Bentley claimed proposed changes to services in local government, policing, probation and other areas were "losing momentum".
Failure to secure greater competition and diversity of provision could hamper the coalition's deficit-cutting strategy, he said, arguing that competitive tendering for public sector contracts could cut costs by up to 30%.
"In most areas we are seeing public services cling onto existing ways of doing things, with vested interests fighting modernisation at every turn and campaigning against change."
"Today, the coalition gives the impression of having lost its way, uneasy about reforms and unsure how to present them."
Pension battle
The government is locked in a fight with public sector unions over changes to pensions.
More than 750,000 workers are set to strike later this month, unhappy about plans to require them to contribute more and work longer before they can collect their pension.
Unions say the retirement income of many low-paid workers will be reduced, contrasting this with what they claim is continuing excess in the banking sector.
But the CBI is challenging ministers - who have warned of the danger of strikes and said they are committed to affordable pension provision - to press ahead with the recommendations in the Hutton report earlier this year.
"The government has to hold its nerve," Mr Bentley said.
"Otherwise the public sector pensions deficit will get even more unaffordable. The private sector has bitten the bullet on this. Now the government as an employer needs to do the same."
The Times reported on Thursday that ministers had delayed the publication of plans to get private and voluntary groups to take over the running of more services - due out next month - amid internal friction over their speed.
This followed leaked documents last month which suggested ministers had decided the "wholesale outsourcing" of public services to the private sector would be politically "unpalatable".
Cabinet Office minister Francis Maude has said the blueprint would be made public "within months".