Negotiate over public sector pension change, says Cable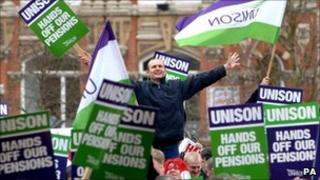 Public sector pension changes are still open to negotiation, the business secretary has said, amid union threats of the biggest strikes since 1926.
Vince Cable said "reasonable people" could still resolve the dispute.
But unions have reacted angrily over the plans for public sector employees to work longer and pay more for less generous entitlements in retirement.
Shadow chancellor Ed Balls urged the unions not to fall into the government's "trap" by going on strike.
Writing in the Sunday Mirror, he said Chancellor George Osborne wanted to provoke them into taking industrial action so he could blame them for the "flat-lining" economy.
'Dignity'
One teaching union has called for negotiations to start afresh.
Dr Mary Boustead, general secretary of the Association of Teachers and Lecturers, said: "What we are afraid of is it will make our pensions so unattractive and so unaffordable that it will push public servants, particularly teachers, nurses and social workers, into pension poverty and living off the state.
"The government has to negotiate properly, and it has to decide whether it is in negotiations, or whether it will simply lay down the law."
She said the talks were not going well and that ministers should withdraw their "diktat" on increasing pension contributions.
She added the ATL was prepared to negotiate everything, including age requirements and moving from final salary to career average.
"We're not going to respond kindly to threats. I am talking about dignity in retirement after years and years of public service, doing difficult and complex jobs.
"We're not asking for anything that is unreasonable, we're asking for dignity."
'Indefinite' strikes
Teachers' unions in England and Wales have already voted to strike on 30 June to protect their pensions. They will walk out on the same day as PCS union members, who are mainly from the civil service and government agencies.
The strike by the National Union of Teachers (NUT) and the ATL is expected to disrupt thousands of schools.
Unison leader Dave Prentis told The Guardian unions were prepared for "sustained and indefinite" strikes.
Its 1.3 million members, who work for local authorities, the NHS, colleges and the police, have not yet been balloted on industrial action.
Mr Prentis said if strikes did happen they would be the biggest since the General Strike of 1926 and, unlike the miners' strike in 1984/5, the unions would win.
TUC general secretary Brendan Barber said if the government was "determined to push through a huge attack on people's pension entitlement", then the unions would have no option other than to take industrial action.
Gail Cartmail from Unite admitted the next few months looked "grim".
She added: "We're happy to talk, it's just ill-advised by government ministers to negotiate on TV and elsewhere."
But Labour's Ed Balls warned against industrial action: "From David Cameron down, ministers are saying to the trade unions: 'Bring it on.' As in the 1980s, they seem to be spoiling for a fight, goading the unions and trying to provoke strikes," he said.
"That's why trade union leaders must avoid George Osborne's trap. He wants them to think that going on strike is the only option and the best way to win the argument."
Chief Secretary to the Treasury Danny Alexander said it would be a "colossal mistake" for public sector workers not to accept the coalition government's plan.
He said the government was proposing public sector workers - bar the armed forces, police and fire service - would receive their occupational pension at the same time as the state pension in future.
Many can currently receive a full pension at 60. The state pension age is due to rise to 66 for both men and women by April 2020.
Ministers also want to move the public sector scheme from a final salary system to benefits based on career-average earnings.
Public sector workers are already facing heavy job cuts and a pay freeze.
Mr Cable said: "The government wants to negotiate over this and our belief is that most trade unionists want to negotiate over this as well.
"It's a very big, complex, difficult issue. But there's got to be reform otherwise the burden falls on taxpayers and future generations. We have got to do something about it.
"We are talking about how future pensions are to be paid for. Reasonable people, I think, can agree and negotiate on how we deal with that problem."