Leader of the Lords says reform 'can happen by 2015'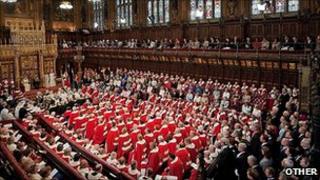 The government can push through reforms to the House of Lords by 2015, the leader of the second house has said.
Lord Strathclyde - who has previously said the deadline could be missed due to political opposition - told the BBC there was now "a momentum" for change.
However, he admitted there was "a lot of bad feeling" about the plans among MPs and peers from all parties.
Deputy Prime Minister Nick Clegg has set out plans for a 300-member second chamber, 80% of which could be elected.
Peers will get their first chance to debate Mr Clegg's White Paper for reform in the House of Lords this week.
The coalition government has promised to legislate for an elected second chamber - potentially renamed a senate - some time during the 2012-13 parliamentary session.
'Consensus'
Earlier this month, Lord Strathclyde told the Financial Times the timetable for reform "could be a little bit longer" than 2015 because of opposition to the plans, or because Parliament "may be overwhelmed with other legislation".
But in an interview with the BBC's Andrew Marr programme, the Conservative peer said: "I think that this time there is a momentum, there is a political will and I believe we can win the argument and there will be senators being elected in 2015.
"There is a lot of bad feeling about it in both houses of Parliament and across all the parties, but at the last general election all the three main parties stood on a commitment to come forward with either a wholly or entirely elected house and we're trying to build on that consensus."
Lord Strathclyde - who inherited his seat from his grandfather - admitted he had once been personally opposed to an elected second chamber, but now believed it would be good for democracy.
"About 20 years ago I wondered if there was any point in all this, but I've studied it, looked at it, and I'm very ambitious for the House of Lords," he said.
"I think the House of Lords would be better if it were elected - it would have more authority to hold the government to account."
A commitment to Lords reform was an important tenet of the coalition agreement and is an issue dear to Liberal Democrat hearts.
Under the government's plans, members would be elected on a staged basis - a third every five years - with the first elections to take place in 2015 - on the same day as the next general election.
The suggestion would be for an 80:20 split of elected and appointed members, but there will be a provision for a fully elected house if that is ultimately preferred.
Mr Clegg said the plans would give Parliament "greater democratic legitimacy", but Labour, which supports a 100% elected chamber, called them "a dog's dinner".
A number of backbench MPs have called for the proposals to be put to a referendum.