Number 10 cat Larry catches three mice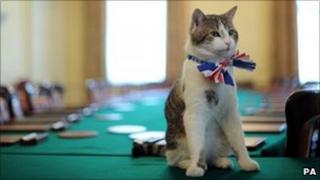 The prime minister has told the BBC that Larry the cat has caught three mice since he moved into Number 10.
The four-year-old tabby was recruited in February after a rat was spotted in Downing Street.
Speaking to Radio 2's Steve Wright, David Cameron said he was "a good mouser" and was "doing well".
He said Larry was "not very keen on men", but seemed happy to be stroked by US President Barack Obama when he visited London in May.
Larry - who came from London's Battersea Dogs and Cats Home - is the first prime ministerial cat for more than 10 years.
His predecessor Humphrey left Downing Street within six months of Tony Blair's arrival in 1997.
Mr Cameron said: "He's a good mouser. I think he's got three mice - verifiable."
The PM said he had taken a photograph on his mobile phone of a mouse in his kitchen, but Larry was yet to be put in that room.
He said that while the animal was a "bit nervous" around most men, the US president seemed to be an exception.
"Funnily enough he liked Obama," he said.
"Obama gave him a stroke and he was all right with Obama."