Plans for emergency 28-day detention attacked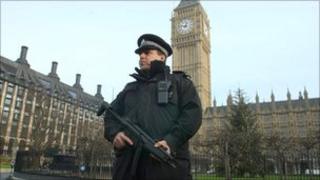 Plans to reintroduce 28 days' pre-charge detention for terror suspects in an emergency are "unsatisfactory and unreliable", say MPs and peers.
A joint committee said the proposed legislation might not work when it would be most needed.
Police can hold terror suspects for up to 14 days without charge.
The Home Office said alternatives, such as special powers for ministers, would not allow Parliament to scrutinise why a suspect is being held for longer.
Police have already lost the power to hold terror suspects for up to 28 days without charge, a key coalition pledge.
But Home Secretary Theresa May says there could be exceptional circumstances when the police would need to hold a terror suspect for up to 28 days.
This could include a 9/11 style situation where the UK is facing multiple terror attacks and the police are overwhelmed.
The Home Office says its contingency plan to extend detention could be brought before Parliament in such an emergency.
In their joint report, MPs and peers who scrutinised the draft legislation said they agreed that some kind of contingency plan was justified.
But they added: "When provisions of this kind needed to be introduced after individuals had been arrested, it would be almost impossible to give Parliament the information it would need to scrutinise the legislation adequately without putting at risk a suspect's right to have a fair trial.
"In addition there is a risk that, if the provision was required in a period of parliamentary recess or dissolution, legislation could not be introduced in time, or at all."
Executive powers
The committee said the home secretary could be given special executive powers to temporarily authorise 28 days' detention, with the agreement of the attorney general.
The coalition government's review of counter-terrorism laws considered an executive order mechanism but ministers ditched it.
A Home Office spokesman said: "The review of counter terrorism and security powers expressed concerns that such a mechanism would not provide appropriate scrutiny.
"Twenty-eight days is an exceptional power and the government believes that emergency legislation reinforces this message. We will however, consider the committee's recommendations in detail."
Isabella Sankey of campaign group Liberty said: "Fourteen days is already far longer than any comparable democracy and much longer than the four-day time limit for all other criminal investigations including murder and complex fraud.
"We already have chillingly broad emergency powers on the statute book that could be triggered to extend the limit if it was necessary to deal with a genuine emergency threatening the life of the nation."