Ministers vow to tackle cost of personal injury claims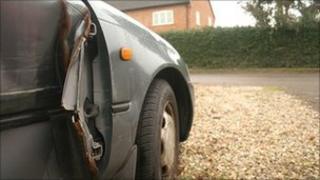 The government have pledged to get a grip on the compensation culture surrounding personal injury claims.
Justice minister Jonathan Djanogly said the current situation was "rotten" and action was needed to increase transparency and reduce costs.
Critics say insurers are getting paid for referring details of people involved in accidents to personal injury lawyers without permission.
Insurers have promised to work with ministers to reform the system.
Labour MP Jack Straw has been putting pressure on the government to take action over referral fees, which he says are a "scandal" and should be banned.
The former Labour minister has spoken out about the issue which he says is contributing to a spike in the cost of motor insurance - despite the fact that the number of road accidents involving personal injury has fallen sharply.
'Rotten'
He has claimed insurance firms were "complicit" in the referral practice and that other organisations - including some police forces - were also selling on commercial information to facilitate claims which were often entirely trivial.
Mr Straw has also criticised what he said was the high-pressure tactics of legal firms who handle personal injury claims, claiming a constituent was inundated by calls and texts urging him to claim compensation after an accident, despite being uninjured and having not given permission to be contacted.
Speaking in the Commons, Mr Djanogly said referral fees were a symptom of a "rotten" compensation culture but that many of the features of the current system had come into being under the last government.
"In 1999, claimant costs represented 56% of damages but by 2010 claimant costs represented 142% of damages," he told MPs.
The government would study the findings of a recent Legal Services Board study into the matter, he added.
"We are looking at referral fees in the context of the reforms as a whole," he said. "We will look carefully at all of these issues."
'Look to MPs'
But Mr Straw said ministers were not going far enough.
"Critically the minister has failed to tackle at all the scandal of referral fees paid all along the chain," he said. "This scandal will continue...until he and his colleague implement recommendations to abandon and outlaw referral fees altogether."
And Alan Beith, the Lib Dem chair of the Justice Select Committee, urged ministers to give a "clear commitment" to outlaw fees as part of proposed changes to legal aid and civil litigation currently before Parliament.
The Association of British Insurers - who speaks on behalf of leading insurers - says its members are committed to dealing with genuine claims promptly.
It has said greater transparency about fees is not sufficient and it would support efforts to ban the practice which it says has helped fuel frivolous and fraudulent claims and encourage unsolicited contact by personal injury lawyers.
"Insurers now look towards Parliament to take the necessary steps and ensure a full ban, which is the only way to protect consumers," it said.
In 2009, the number of road accidents involving personal injury was 31% down on the average for 1994-98. But the cost of personal injury claims has doubled from £7bn to £14bn in the past decade and motor insurance premiums have risen at least 30% in the last year.