Senior Whitehall civil servants 'to receive bonuses'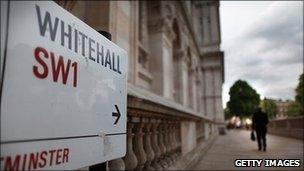 Bonuses of up to £20,000 will reportedly be awarded to more than 1,000 senior Whitehall civil servants.
The Daily Telegraph said officials across several government departments were expected to share in £10m worth of extra payments in the next few weeks.
The details are set to be revealed in annual departmental reports, the newspaper added.
The Cabinet Office said only those civil servants who made an "exceptional contribution" would be rewarded.
The Telegraph said ministers tried to persuade staff to give up the performance-related bonuses but were told the payments were a contractual right.
One in four of the most senior officials are said to be expecting rewards worth as much as 10% of their salary.
It is understood some permanent secretaries - the most senior members of staff - would be in line for bonuses of about £20,000.
In April Dame Helen Ghosh, permanent secretary at the Home Office, told MPs that almost two thirds of senior civil servants in her department received bonuses of £773,000 in total in 2009-10.
She said the payments of as much as £10,000 each were "not exactly big bucks".
The Cabinet Office said the payments, covering the 2010-11 financial year, would be finalised over the next few weeks.
A Cabinet Office spokesman said: "This government is committed to making sure only those civil servants that make an exceptional contribution will be rewarded.
"We will restrict bonuses for senior civil servants (SCS) and senior NHS managers to only the top 25% of performers.
"As a result, approximately 1,700 SCS and 450 NHS senior managers will no longer receive bonuses this year. This will deliver savings of approximately £15m per year.
"This is the fair way to reward excellence while delivering better value for money and providing strong leadership on reducing the record deficit."
Related Internet Links
The BBC is not responsible for the content of external sites.