What next for the victims of hacking?
By Robin Brant
Political correspondent, BBC News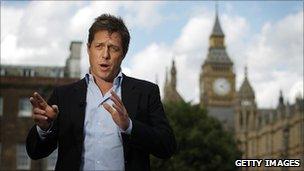 David Cameron has launched an inquiry into press standards. But what might it mean for the victims of wrongdoing?
Some of the victims of the News of the World hacking scandal say they do not trust the police investigating what happened.
They also fear that a worthwhile public inquiry could be lost because of a long wait for prosecutions to be completed.
Some members of the Hacked Off campaign, which represents high-profile victims of hacking, want part of the judge-led inquiry, which will look at press ethics, to be up and running by October this year.
One high-profile campaigner said: "I'm panicking about the speed of the thing.. .all this work and then we get nothing."
There is concern that there could be a five-year wait while the police pursue suspects and court cases take place, with one member saying: "It could strangle efforts."
Others believe a long delay could provide what one described as a "silver lining", because tabloid journalists will be, in their own words, "scared about crossing the line in the intervening period".
There has been detailed discussion about offering immunity to witnesses, in an effort to encourage people like former tabloid journalists to come forward to reveal details of illegal activity but knowing they cannot incriminate themselves.
This has been likened to a Truth and Reconciliation Commission.
But human rights lawyers have expressed serious concern about offering witnesses immunity from prosecution, something for which there is no tradition in the English courts.
In discussions about who may serve as lay representatives on the two panels expected to be set up to serve under Lord Justice Leveson, former Commons Speaker Betty Boothroyd has been mentioned.
Campaigners also believe there should be a member who can represent the views of victims, who range from the family of Milly Dowler to the actor Hugh Grant and the Tory MP Zac Goldsmith.
It is understood that the terms of reference and the full membership of the inquiry will be decided by next Tuesday.
One prominent politician who believes they were hacked has called for all sides to have legal representation at the inquiry, like the Hutton Inquiry into the death of Dr David Kelly.
This is in contrast to the Chilcot Inquiry in to the Iraq war, in which witnesses were questioned by panel members and lawyers were not present.
They said this is crucial as they believe there will be an "immense fear factor", because some of the people who may give evidence would '"fear retribution from the Murdoch press".
Related Internet Links
The BBC is not responsible for the content of external sites.