Murdoch says Gordon Brown's criticism 'entirely wrong'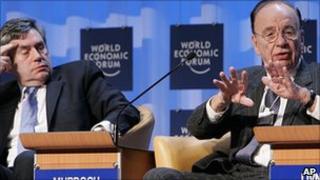 Rupert Murdoch has said Gordon Brown was "entirely wrong" to accuse his UK newspapers of widespread law-breaking.
Mr Murdoch has dismissed allegations made by the former prime minister in Parliament that News International was part of a "criminal-media nexus".
He told the Wall Street Journal the Brown family were "friends" before the Sun withdrew its support from Labour.
He said he would use his appearance before MPs next week to address the "total lies" told in Parliament.
The chairman of News Corp - whose UK newspaper arm News International has come under vehement attack by MPs after revelations of alleged phone hacking at the News of the World - has been summonsed to appear before the Commons Culture Committee on Tuesday.
'Integrity'
He initially declined to appear but changed his mind on Thursday and will now answer questions alongside his son James and News International chief executive Rebekah Brooks.
In his first public comment since the scandal intensified last week, the 80-year old tycoon said the hearing would be an opportunity to address "some of the things that have been said in Parliament, some of which have been total lies".
"We think it is important to absolutely establish our integrity in the eyes of the public. I felt that it is best to just to be as transparent as possible" he told the Wall Street Journal, which is owned by News Corporation.
The former prime minister has been Mr Murdoch's strongest critic in recent days, accusing News International of "law-breaking on an industrial scale" in a Commons debate.
Accusations
He has accused Murdoch-owned papers of getting access to his bank and legal records by deception, using "known criminals" to work on stories about him and of publishing a story about his son's cystic fibrosis which reduced his family "to tears".
Mr Brown, who was prime minister when the Murdoch press transferred its allegiance from Labour to the Conservatives, said his relationship with the publisher was never "cosy nor comfortable".
Mr Murdoch told the Wall Street Journal that Gordon and Sarah Brown were "always friends of ours" but this ended when The Sun decided to withdraw its support from Labour.
"He got it entirely wrong," he said of Mr Brown's remarks.
News International has already rejected the ex-PM's allegations about the methods it used to obtain stories about him and his family, saying they were sourced legitimately and in the public interest.