Guardian apologises to the Sun over Gordon Brown story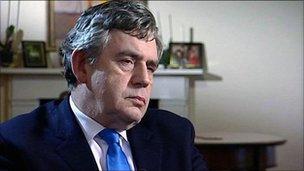 The Guardian has apologised to the Sun for reporting that it accessed Gordon Brown's son's medical records.
The Guardian had claimed the Sun hacked into Fraser's records before reporting he had cystic fibrosis.
The Sun said its source was the father of another child with cystic fibrosis who heard the news "on the grapevine".
The Sun newspaper strongly denied accessing Mr Brown's family medical records without his knowledge.
Mr Brown said he was left "in tears" when he was told that the Sun was publishing the story.
He said he did not know how the newspaper got access to the details but said: "I can't think of any way that the medical condition of a child can be put into the public arena legitimately unless the doctor makes a statement or the family makes a statement."
The paper said the man's own child also had cystic fibrosis and he wanted to raise awareness of the condition.
The man told the Sun: "I felt vindicated in contacting the Sun.
"I just felt at the time that we could have made something positive out of the tragedy and I believe the truth would have come out eventually anyway."
The Sun, published by Rupert Murdoch's News International, said it had conducted an inquiry into the allegations and that it had not accessed the medical records of Mr Brown's son or commissioned anyone to do so.
In a statement, the paper said: "The story originated from a member of the public whose family has also experienced cystic fibrosis.
"He came to the Sun with this information voluntarily because he wanted to highlight the cause of those afflicted by the disease.
"The individual has provided a written affidavit to a lawyer confirming this. On receipt of the information, the Sun approached Mr Brown and discussed with his colleagues how best to present it.
"Those colleagues provided quotes which were used in the published piece which indicated his consent to it."
But the Cystic Fibrosis Trust questioned the decision to publish the information "without express permission, regardless of their motivation".
A spokesman said: "The release of any medical information to the media or anyone else is a decision for patients or, in the case of children, their parents to make."
Related Internet Links
The BBC is not responsible for the content of external sites.