An old-fashioned resignation?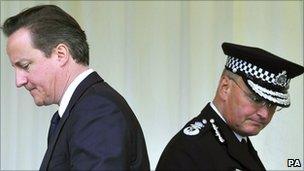 He jumped. He was not pushed. There was, I'm told, "no gun to his head".
We are being told that Britain's top policeman, Sir Paul Stephenson, has resigned in order to take responsibility for the failures in the Metropolitan Police. He insists that he is leaving with his integrity intact and his boss, the Mayor of London, seems to agree. How very old fashioned.
Last Thursday, Boris Johnson summoned Sir Paul to an emergency 90-minute meeting and left him in no doubt that his confidence had been shaken.
The mayor then called the prime minister and warned him that he was considering taking serious action. Sir Paul and Boris spoke several times over the weekend before the Met chief decided to quit.
One option Boris was considering was an inquiry into the Met's links with the News of the World and former executives of the paper like Neil Wallis by another police force, HMIC - the inspector of constabulary - or the IPCC - the Independent Police Complaints Commission.
I am told that this remains a possibility which must raise doubts over how long Assistant Commissioner Yates and head of press Fedorcio can survive in their posts.
Home Secretary Theresa May added pressure by planning to make a statement about her "concerns" in the Commons tomorrow. Her shadow, Yvette Cooper, made it clear she wanted to see "leadership" from both the Met and the government.
The prime minister only learnt of the resignation just before it was announced on board a plane taking him and a group of businessmen on a foreign trip (Downing Street have asked me not to identify its destination for security reasons).
Modern communications mean that he will be able to be briefed by the home secretary whilst in mid-air.