Baroness D'Souza elected new Lords Speaker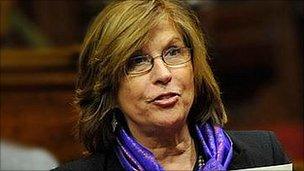 Crossbench peer Baroness D'Souza has been elected to be the new Speaker of the House of Lords.
Baroness D'Souza, a human rights and overseas development expert who became a peer in 2004, defeated five candidates in a ballot of all peers.
She will take on the post in September, succeeding Baroness Hayman.
The Lord Speaker chairs daily business in the chamber and is an ambassador for the House but has far fewer powers than their Commons counterpart.
Baroness D'Souza was elected after four rounds of counting under the alternative vote (AV) system.
She defeated Tory peer Lord Colwyn in the final round by 296 to 285 votes. The remaining candidates - Lib Dem peers Lord Redesdale and Baroness Harris of Richmond, Labour's Lord Desai and Conservative Lord Goodlad - were eliminated in that order in earlier rounds.
At an election hustings earlier this month, Baroness D'Souza said she saw the main function of the role to make Parliament "more accessible" and to represent the Lords while "protecting the security and the reputation of the House".
Baroness D'Souza was elected as convenor of the group of crossbench peers - who do not take the whip of any political party - in 2007.
She played a leading role earlier this year in trying to broker a compromise between the Lords and the Commons during an acrimonious stand-off over the AV referendum and proposed parliamentary boundary changes. She has also served on the Lords procedure and privileges committees.
She will chair her first session from the woolsack on 5 September.
The post of Lord Speaker was created in 2006 when the last Labour government reduced the powers of the Lord Chancellor - who used to oversee proceedings.
Current Speaker Baroness Hayman announced her decision not to seek a second term in office earlier this year.
Unlike Commons Speaker John Bercow, the Lord Speaker cannot call members to participate in debates nor discipline them.
Related Internet Links
The BBC is not responsible for the content of external sites.