Landale online: Cameron's efforts to stay in touch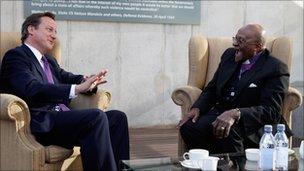 When the allegations first emerged that murdered schoolgirl Millie Dowler's phone had been hacked, David Cameron was in Afghanistan.
We had just had a sweaty few days visiting British troops and talking to President Karzai.
We were just about to begin the long flights home on an assorted array of military aircraft when the news came through.
The travelling team of officials and journalists learned the bare bones of the claims before we were trapped, effectively incommunicado for 12 hours.
The military are very nervous about the use of mobile phones and Blackberries on their aircraft; such devices tend to switch things on which should not be switched on at 20,000 feet.
We knew a huge story had been brewing while we flew but we arrived back in the UK at 10pm, having missed an entire news cycle.
It is little wonder that Downing Street was off the pace.
Twelve days on, as the phone hacking controversy continues to rage and destroy careers and reputations at quite astonishing speed, the prime minister is once again overseas, this time in South Africa, banging the drum for British business.
And once again we are rushing from flight-to-flight catching up with events back in London.
Instead of listening to the prime minister address local business leaders here, his officials can be seen huddling outside around an Ipad listening to BBC Radio 4's World at One or the News Channel.
Sir Paul resigns for this, John Yates resigns for that.
Just as Assistant Commissioner Yates was issuing his statement, Mr Cameron was sipping tea with Desmond Tutu in a leafy suburb of Johannesburg that was once a meeting place of the armed wing of the ANC.
But when asked, the prime minister is bullish about this trip to South Africa. He says it is right for a prime minister to be out there drumming up deals for British businesses.
But some Tory MPs are nervous.
They think Mr Cameron's trips have left him slow to respond to fast-paced developments as the crisis has evolved.
The prime minister is equally robust in response: "Just because I am in Africa doesn't mean I lose contact with my office."
And he is right, up to a point.
On the flight out to Johannesburg, Mr Cameron repeatedly used the plane's secure satellite phone - and the less secure public one in his armrest - to stay in touch (I wonder whose credit card took the damage?).
But on the military flight back from Afghanistan, Mr Cameron was effectively incommunicado for nine hours.
And however good the communications, it is always difficult for a politician to judge the mood of a crisis back home.
So Mr Cameron has chosen to compromise.
He has already scaled back this trip from four days to just two - and is now expected to cut it back further.
He will still give a speech and a press conference in Nigeria on Tuesday but will return to the UK by the evening, missing a visit to a power station, in order to prepare for his Commons statement on Wednesday.
He had been planning to arrive back in the UK at 0600 Wednesday morning.
The balance he is trying to strike is to be in touch with the crisis but not distracted from other duties.
And not everyone thinks he getting the balance right.
Once again, the reality of government is getting in the way of the duck and dive of politics.
Related Internet Links
The BBC is not responsible for the content of external sites.