MP Mensch apologises to Piers Morgan for hacking slur
By Victoria King
Political reporter, BBC News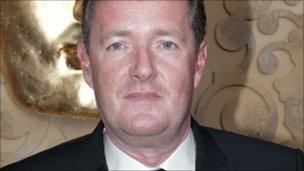 Conservative MP Louise Mensch has apologised to former Daily Mirror editor Piers Morgan for accusing him of "boasting" about hacking phones.
She told the Commons select committee last week that Mr Morgan had been "very open about his personal use of phone hacking" in his memoir The Insider.
But she now says she made a mistake and had misread a newspaper report about the book.
Mr Morgan, who denied the accusation, thanked Mrs Mensch for her apology.
This later developed into a row between the pair on Twitter after Mrs Mensch stood by her remarks but declined to repeat them outside Parliament, where comments have greater legal protection against libel proceedings.
During the hearing the Corby MP - best known as the best-selling author Louise Bagshawe until she married Peter Mensch, manager of rock band Metallica, in June - asked why the committee not spoken to Mr Morgan about phone hacking.
She said: "As a former editor of the Daily Mirror, he said in his book The Insider recently that that 'little trick' of entering a 'standard four digit code' will allow 'anyone' to call a number and 'hear all your messages'.
"In that book, he boasted that using that 'little trick' enabled him to win scoop of the year on a story about [former England football manager] Sven-Goran Eriksson. That is a former editor of the Daily Mirror being very open about his personal use of phone hacking."
A furious Mr Morgan, who now hosts his own programme on the US news channel CNN, called the claim "a complete outrage" and challenged her to provide evidence for it.
He also accused her of being "cowardly" by using parliamentary privilege to make it.
On 21 July, Sly Bailey, chief executive of Daily Mirror publisher Trinity Mirror, wrote to the committee demanding the MP correct her remarks.
"On two occasions Mrs Mensch made uncaveated statements purporting to be facts," she wrote. "On both occasions she made allegations that are wholly untrue."
In a letter to committee chairman John Whittingdale on Friday, Mrs Mensch said she had "wrongly stated" that Mr Morgan had "been open about personally hacking phones".
"This was based on my misreading of an article in the Daily Telegraph... which covered Mr Morgan's description in his book of how to hack a phone and how he won the Scoop of the Year on the story of Sven-Goran Eriksson and [TV presenter] Ulrika Jonsson.
"The Telegraph report covers the claim of a blogger that this story was acquired by phone hacking, and I misread that as Mr Morgan himself claiming this to be true.
"Therefore, I must apologise to Mr Morgan and the committee for this error about his book."
Mr Morgan later said on Twitter that he "graciously accepted" her apology.
Earlier on Friday, Mrs Mensch admitted it was "highly probable" she had taken drugs while working for record company EMI in the 1990s.
She said MPs were "entitled to a life before politics, including making mistakes".