Councils must publish assets, says Pickles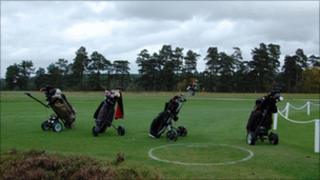 Councils must publish lists of their assets to show which ones can be sold instead of cutting services, the government says.
The coalition has produced a map of buildings and facilities belonging to 87 councils in England.
Among them are restaurants, pubs, golf courses, stadiums and an airport.
Communities Secretary Eric Pickles urged a "good hard look" at assets. But the Local Government Association said councils were saving "millions".
The publication of the map follows several disputes between Whitehall and town halls about the impact of spending cuts outlined since the coalition came to power last year.
Manchester City Council was the highest-profile critic, arguing that the £109m reduction in its budget was "ideologically motivated".
But the government says it and other local authorities need to do more to cut waste.
'Way beyond'
The map shows more than 180,000 assets owned by almost 600 public sector bodies, including central government and councils.
Public sector assets are worth an estimated £385bn, with almost two thirds owned by councils, the Department for Communities and Local Government said.
Among the items on the map are 40 hotels, around 20 cinemas and one airport, in Southend, Essex.
Nearly 100 golf courses are shown, along with almost 30 sports stadiums, including those used by Swindon Rugby Club, Swindon Town Football club and Aldershot Football Club, and one sailing club.
Mr Pickles said: "We need to know, now more than ever, exactly what assets are publicly owned. The general public probably have no idea of the sheer scale and scope of property and land on the public sector's books. In many cases it goes way beyond traditional frontline services.
"I want the public sector to take a good hard look at what they own. By cataloguing each and every asset councils can help government find innovative new ways to utilise them, improve local services, keep council running costs down and save taxpayers' money."
'Smarter'
For Labour, shadow local government minister Jack Dromey said: "Councils have a duty to tackle waste and ensure the assets they hold deliver the best value for money for local people.
"However, nothing should deflect from the fact that the size and speed of the Tory-led government's decision to hit councils with deliberately frontloaded cuts has seen front-line services lost, cuts to charities and the voluntary sector and local jobs lost."
Under current rules, revenue generated from the sale of council assets cannot go into running front-line services or paying wages.
Peter Fleming, chairman of the Local Government Association's improvement board, said: "Local authorities are saving millions of pounds through smarter use of their assets.
"This includes gathering different council services together under the one roof to reduce building management costs and sharing space with other councils, public bodies and the voluntary sector."
He added: "The key issue remains that if the public sector is to find really big savings then Whitehall has to look at its own assets.
"Government agencies and the NHS must stop working in isolation and start sharing office space with each other and local authorities."