George Osborne to make statement to MPs on economy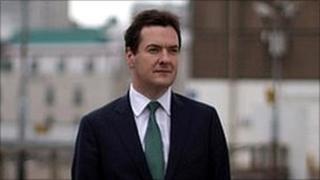 Chancellor George Osborne is to make a statement to MPs on Thursday about the economic situation.
Mr Osborne is taking advantage of the rare summer recall of Parliament, to outline the UK's view on the economy and to answer questions from MPs.
There have been heavy falls in stock markets over recent weeks and fears over some euro members' economies.
David Cameron asked for a recall of Parliament for a day after the recent violence in London and other cities.
On Monday Deputy Prime Minister Nick Clegg told the BBC ministers would "do more" to encourage growth in the UK economy.
Chancellor George Osborne also pledged "further action" in the autumn in a Daily Telegraph article.
The latest GDP figures suggest the economy is barely growing and Labour's Ed Balls has said the government's cuts have gone too far, too fast and have choked off the recovery.
Last week, stock markets tumbled amid concerns about the eurozone debt crisis and fears about US growth, prompting emergency statements from the European Central Bank, G7 finance ministers and the International Monetary Fund.
Mr Clegg told the BBC that recent events had demonstrated "the necessity" of the government's economic programme - Chancellor George Osborne last year outlined plans to cut spending and raise taxes in an effort to eliminate the structural budget deficit by 2015-16.
Mr Osborne wrote in an article for the Telegraph on Monday that the government had a plan for growth which included lower corporation tax rates, less regulation for small firms, welfare reform, planning changes and lower taxes for entrepreneurs.
But he added: "We will take further action this autumn. Indeed this crisis provides an opportunity to make some difficult trade-offs in favour of growth that might get parked in the 'too difficult' box in calmer times."