Liam Fox accompanied by MoD team on holiday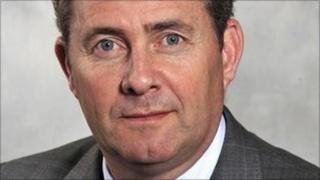 The Ministry of Defence has confirmed that Defence Secretary Liam Fox has taken three staff members on holidays with him.
Mr Fox, who is in Spain, is accompanied by one special advisor, one military assistant from his private office and a military communications person.
The MoD says Mr Fox has established a remote office, including secure telephone lines.
He will be briefed on the wars in Afghanistan and Libya while on holiday.
"The defence secretary has established a deployed office whilst on leave to enable full secure communications, in order to maintain overall control of the MoD and national defence," an MoD spokesperson said.
"This allows the secretary of state to continue normal business, receive regular operational and intelligence updates, including on Afghanistan and Libya, and maintains his ability to take decisions on critical defence issues.
"A small number of military and civilian staff are supporting the deployed office."
The deployment was "not out of the ordinary... people would be complaining if the defence secretary wasn't able continue to work and oversee operations while abroad".
The Prospect union, which represents many MoD staff, has questioned the cost of the deployment, saying it has damaged morale among staff already concerned about cuts to the MoD budget.
"The MoD has a full-time duty minister in Whitehall over the summer and Dr Fox can be kept up to date on the phone and through video-conferencing," a spokesman said.
"Pictures in the Sun and the Mirror of staff at the beach and Mr Fox toasting glasses of wine will make morale even worse."
The MoD spokesperson says the team is staying in a three-star hotel, not 5-star premises as has been reported by some newspapers.
The spokesperson also disputed reports the deployment would cost £15,000 but refused to be drawn on the actual figure.