Ministers back councils over evicting rioters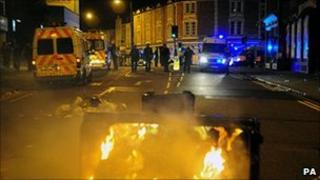 Ministers say they "stand fully behind" councils that seek to evict tenants who were involved in looting and rioting.
They are to consult on whether powers should be extended to allow councils to evict those who attacked property in other local authority areas.
David Cameron told MPs it "should be possible to evict them and keep them evicted".
But some concerns were raised that it would just mean moving problem social-housing tenants to different areas.
Several local authorities have said they will seek to evict social tenants who are convicted of being involved in rioting across English cities, among them Nottingham City Council, Salford City Council and Westminster, Greenwich and Hammersmith and Fulham councils in London.
Tenancy 'at risk'
Nottingham City Council Leader Jon Collins said his council would seek to evict anyone directly involved, or whose children had been involved in disturbances.
He said: "Parents have a responsibility to control the young people living in their home. If young people living in your home have been involved in the violence over the past few days, they are putting your tenancy at risk."
In Westminster, the council is looking at using "demoted tenancy" powers under the Anti-Social Behaviour Act 2003, which allows social landlords to to seek possession of a property, even if it is under a secured tenancy.
But ministers say current powers are limited to crimes committed within the area the tenant lives in, and they want to extend it further - it is believed that many people who got involved in the riots and disorder travelled some distance to do so.
David Cameron was quizzed about the proposal during a Commons debate on Thursday.
Labour's Kevin Barron told him: "Removing people for unacceptable behaviour from social houses, for them to be put into other communities and taking that unacceptable behaviour with them, does not solve the problems."
But the prime minister said: "What I do think can be part of solving the problem is saying to people in social housing: if you misbehave, you can be thrown out of your house."
He added later that, for tenants whose behaviour was "appalling it should be possible to evict them and keep them evicted".
He also told MPs: "I think there may be opportunities, possibly through the new criminal justice and sentencing legislation, to make sure we are better at confiscating things from people when they commit crimes."
Housing Minister Grant Shapps said it makes sense to extend eviction powers to people who had travelled to neighbouring boroughs - or even other parts of the country - to take part in violence.
He said there would still be a "proper judicial process" to go through, but those who were convicted of taking part in riots should not expect "to receive the benefits society can bring to you".
The Department for Communities and Local Government is already consulting on proposals for a new mandatory power of possession for landlords with anti-social tenants.
It says it will add proposals to change the law so social landlords can evict tenants who take part in serious anti-social or criminal behaviour - such as rioting - outside their local neighbourhoods.
Mr Shapps also told Sky News that a consultation on evicting "neighbours from hell" was already under way and he would look at ways to stop rioters from getting social housing in other areas.
The most popular e-petition on the government's website currently calls for convicted rioters to lose their benefits - which received more than 90,000 signatures by 6am, despite technical problems preventing access for many to the petition.