We're number one at cricket, David Cameron tells Obama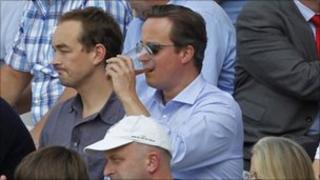 David Cameron boasted to Barack Obama in a transatlantic phone call that England was "number one" at cricket, he has revealed.
The US president shot back that England had invented the game and it was like saying America was good at baseball.
Mr Cameron revealed the light-hearted exchange in an interview with the BBC's Test Match Special.
The PM spent much of the afternoon watching England play cricket against India at The Oval, in South London.
During the tea break in the fourth and final Test, he spoke of his pride at England's top spot in the the World Test rankings.
'Competitive'
Apologising for name dropping, he said: "I was on the phone to Obama the other day. I said 'there are terrible things happening in the world but at least England is number one at cricket.
But he said 'you invented the game. That's like saying America is number one at baseball or American football'.
"I said: 'you don't understand Barack, but I'm not going to argue it out with you now'."
The prime minister also confessed to being very competitive when he plays Deputy Prime Minister Nick Clegg at tennis.
"He's quite competitive too I have to say," added the PM.
"The line calls probably require a bit of extra scrutiny I think."
Mr Cameron also touched on more serious matters in his interview with BBC Radio 4's Test Match Special.
He discussed the global economy and the government's reaction to the recent riots in English cities, arguing that they were not a rebellion against politics, or policy, but down to "bad behaviour".
"if it was a protest about money, then we would have an answer which was about money and spending. If it was a protest about politics then we would be having an argument about politics.
"I think actually what it was, was appallingly bad behaviour and looting and stealing and thieving."
'Exhausted'
He said there were "no easy answers", adding: "We face difficult times but I am still profoundly optimistic about this country. We have got great things going for us."
He also confessed a weakness for the Test Match Special Twitter feed - even though tennis, rather than cricket, is his favourite sport - and his hero was John McEnroe.
"Although he behaved appallingly, there was something about John McEnroe. I loved to watch him play," he said.
He also defended his decision to attend the cricket, saying that prime ministers needed an occasional break from the pressures of the job.
"You get exhausted, you get completely fried, you make terrible decisions, so I hope no one begrudges me a few hours at the cricket."