Libya conflict: Fletcher murder suspect 'found dead'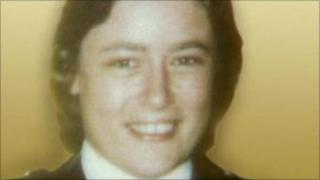 One of the men linked with the murder of PC Yvonne Fletcher in London in 1984 has been found dead in Libya, according to Libyan opposition officials.
Abdulqadir al-Baghdadi had been named as a suspected "co-conspirator" in the officer's killing in documents handed to the Crown Prosecution Service.
Foreign Secretary William Hague said the UK wanted to know "a great deal more" about what had happened to him.
The UK is seeking permission for UK investigators to visit Libya.
No-one has ever been charged with the murder of PC Fletcher, who was shot while policing a demonstration outside the Libyan embassy in London.
Mr al-Baghdadi is one of three former diplomatic staff alleged to have been involved in the killing, according to a witness statement given to UK prosecutors - details of which emerged on Saturday.
'Vendetta'
The account named Mr al-Baghdadi and Matouk Mohammed Matouk as "co-conspirators" who could potentially face prosecution, while alleging that it had been Abdulmagid Salah Ameri, a more junior diplomat at the time, who had actually fired the gun.
All diplomatic staff claimed diplomatic immunity after the murder and were deported.
Amid renewed efforts to find PC Fletcher's killers, officials from the National Transitional Council - the body recognised by the UK as Libya's sole governing authority - announced that one of the alleged suspects was dead.
"We can confirm today the death of Abdulqadir al-Baghdadi who is the head of the Revolutionary Guards. He was a minister and he was also accused of shooting Yvonne Fletcher in London in 1984," deputy head of Tripoli's council, Usama El-Abed, said.
"We just found the body and he was shot in the head."
He suggested he had been killed as a result of an "inside vendetta" within groups loyal to the deposed former leader Colonel Muammar Gaddafi.
The Foreign Office said it could not confirm the death and was seeking more details.
"I don't want to prejudge immediately what has been announced," Mr Hague told BBC News.
"Of course, we will want to know a great deal more about what the NTC has said has happened in this case. I am sure the police will want to know what has happened and assess themselves whether it affects their investigation in any way."
Extradition issue
One senior NTC figure recently appeared to rule out the possibility of any Libyan being extradited to the UK to face charges in connection with the murder, saying it was not allowed under Libyan law.
But Mr Hague insisted that the NTC had offered to co-operate fully with the police inquiry.
"We, in the Foreign Office, will assist the police in pursuing the investigation in the future, including continuing it in Libya itself," he added. "The change that is happening in Libya may give additional opportunities to take this investigation forward."
Downing Street has said it would raise the issue with the NTC and hoped an agreement could be reached on granting UK police investigators access to Libya soon.
Prime Minister David Cameron is due to hold talks with members of the NTC in Paris on Thursday as part of an Anglo-French summit designed to pave the way for it to formally assume power in Libya.
The agenda for the summit was one of a range of issues discussed by ministers in a meeting of the National Security Council, also including efforts to track down Col Gaddafi and a full-scale humanitarian aid drive once fighting has ceased.
Rebel leaders have warned that unless troops loyal to Col Gaddafi in the city of Sirte - his birthplace and one remaining stronghold - surrender by Saturday, they will use force.