Balls 'didn't want' Alistair Darling's job in 2009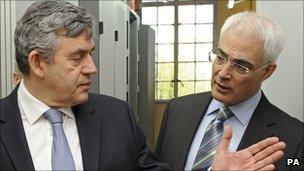 Ed Balls was aware of a plan by Gordon Brown to make him chancellor in 2009 in place of Alistair Darling, he has told the BBC.
But Mr Balls said he told colleagues "inside government" at the time that this was the "wrong plan".
Mr Darling confirms the widely rumoured plot in his forthcoming memoirs.
The memoir, to be published on Wednesday, will claim Mr Balls - now shadow chancellor and formerly one of Mr Brown's closest allies - was part of a "shadow" Treasury operation designed to keep Mr Darling in check in government.
It has long been thought that Mr Brown sought to move Mr Darling in the summer of 2009 but that he refused to accept another Cabinet job and that, weakened by the financial crisis and internal discontent within the party, Mr Brown backed down.
Asked whether he had been lined up to replace Mr Darling, Mr Balls told the BBC that he was happy in his job at the time and he believed his colleague was doing a "good job" in a very difficult period.
"He (Gordon Brown) never told me that was what he was doing," he told Radio 4's World At One.
"But there is no doubt from what Alistair is saying and from what everybody else has said and the conversations that happened in that week that that was the plan.
"I made it clear, in that week, to people inside government and outside that I thought that was the wrong plan. I thought that changing the chancellor in 2009 was the wrong decision.
"I wanted to stay as secretary of state for children, schools and families. But that is history."
Mr Balls said Mr Darling was entitled to write his memoirs but he was focused on the current economic challenges and not "revisiting the past".
Labour leader Ed Miliband, another former ally of Mr Brown, played down Mr Darling's comments about rifts at the top of the last government and said he "did not see" any sign of a parallel Treasury organisation when he was in the cabinet.
He told Sky News: "Alistair's got a perfect right to write his memoirs and talk about his reflections on his time in office, and I'm sure they will be interesting for people.
"But the important thing for me to do, which I'm going to do, is talk about the needs of the economy going forward and the needs of the country.
"And there are urgent issues we face, not simply reflections on time in office - and I'm sure Alistair will be the first to say this - but how do we get our economy growing?"
According to the latest extracts reported by Labour Uncut, Mr Darling says that when he was chancellor he feared UK bankers were "so arrogant and stupid they might bring us all down".
Bankers displayed a complete lack of gratitude for the multi-billion pound taxpayer bailout that saved much of their industry, he is said to write.
He also reportedly says Sir Fred Goodwin, widely criticised for his role in the near-collapse of Royal Bank of Scotland, "deserved to be a pariah" for taking a vast pension despite being fired, comparing his attitude to the crisis as more in keeping with someone "off to play a game of golf".
Publishers Atlantic Books have refused to comment on the leaked extracts.
A spokesman said the book, Back from the Brink: 1,000 Days at Number 11, will be serialised in a Sunday newspaper, starting this weekend, ahead of its official publication.
Mr Darling was unavailable for comment on the leaks.
Related Internet Links
The BBC is not responsible for the content of external sites.