How much does Royal Mail make from undelivered parcels?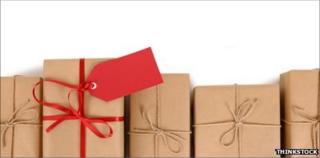 As online shopping booms, have you ever wondered what happens to those valuable items sent in the post which can't be delivered?
Freedom of information research shows that the Royal Mail is making an increasing sum of money by selling these goods at auction, amounting to nearly £1m last year.
Over the past six years the postal service has more than doubled the income it generates in this way, from £432,000 in 2005/06 to £933,000 in 2010/11.
The items are undeliverable because the address is inadequate or the recipient has moved, and there is no return address.
Valuable goods which cannot be delivered or returned are stored for up to four months. If they are not claimed, they are then sold at auction. The company insists this is always a last resort, where the sender cannot be traced.
Although the sums involved are very small in terms of its annual turnover, the Royal Mail says the proceeds are used to recoup part of the cost of its National Return Letter Centre based in Belfast, which aims to return undeliverable items to the sender wherever possible.
This centre processes a total of around 20 million items a year, mainly business mail, at a cost of over £4m.
While the quantity of letters sent is falling, the number of parcels being mailed is growing due to the rapid spread of online shopping and sites like eBay.
This suggests that the increasing auction income could well be linked to the popularity of online commerce, if more items of higher value are now being sent through the post.
The figures were obtained from the Royal Mail by the BBC through a Freedom of Information request.