Euro-warriors Bill Cash and Ken Clarke hold fresh bout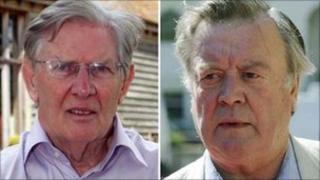 They came for blood.
But occasional bouts of sarcasm was all that aficionados of Westminster infighting got.
Two veteran Conservative Party heavyweights - Ken Clarke and Bill Cash - were going head-to-head once again over the biggest issue of their political lives: Europe.
Memories of the mid-1990s, when the party nearly tore itself apart over the Maastricht Treaty, returned as they settled down for a hearing of the European scrutiny committee in Westminster's Portcullis House.
The MPs had gathered to discuss the accession of the European Union to the European Convention on Human Rights, as outlined in the Lisbon Treaty.
Was Mr Cash, the doyen of Eurosceptics, who heads the committee, trying to wrongfoot his Europhile would-be nemesis as they took their seats?
The backbencher was, after all, fresh from a quite a tasty bout with David Cameron at Wednesday's liaison committee, when he attempted, with varying degrees of success, to land a blow on the PM (a "practical eurosceptic" apparently) over his enthusiasm for greater fiscal integration in the eurozone.
David and Goliath
Mr Cash's first words were to congratulate Mr Clarke on attending.
The justice secretary, and Lord Chancellor, was self-deprecation personified: "There's no way to shut me up."
Similarly chummy, Mr Cash replied: "It would be impossible and it would be undesirable."
The committee went through the plans to accede to the convention - effectively to allow people to take the EU itself, not just member states, to the European Court of Human Rights in Strasbourg.
Mr Cash questioned whether this was necessary. Was it not just more bureaucracy, which could further undermine the UK's sovereignty?
Mr Clarke - whom eurosceptic Conservatives have never forgiven sharing a platform with Tony Blair at the launch of the Britain in Europe campaign - did not think so.
He could not recall any occasion when someone had needed to take the EU to court for alleged abuses of human rights, but argued that it must face the same level of accountability as member states themselves.
"We've got David on one side and Goliath can't be left out of the picture, because we've got to get a remedy," he said.
The 20 or so people who had gathered in the Wilson room to watch this encounter - many of them Mr Clarke's staff and advisers - enjoyed the metaphor.
But which of the protagonists was going to sling the defining quip?
The problem was that EU accession to the convention provides missiles of muddy confusion rather than rock-hard certainty.
'Good of you'
There were only minor skirmishes - at least by the standards of the 1990s, when Mr Cash and his friends exasperated John Major so much he resigned as party leader to prompt a back-me-or-sack-me re-election contest.
Discussing the amount of evidence the government had provided for the committee, Mr Clarke said: "You've had two letters from us, which we weren't obliged to do."
Mr Cash's sarcastic reply: "That was extremely good of you, Lord Chancellor."
At times, Mr Clarke made efforts to placate his doubters, saying it would take the unanimous agreement of all 47 - yes, 47 - Council of Europe member states before the EU could accede to the human rights convention.
This could take years and would not happen until all the workings and rules were fully understood and agreed upon, he added.
"I think we've got years of this until we get everybody from Bulgaria to Luxembourg signed up to it," Mr Clarke said.
"It's very unlikely we will both be members of this House when it does," he reminded Mr Cash.
To fond laughter, Mr Cash replied almost whimsically: "We are almost the same age."
The issue of Europe rumbles on.
"I don't think many members of the public will be lying awake at night about it," said Mr Clarke. "But it's very important."