Jobseekers must improve English or lose benefits - PM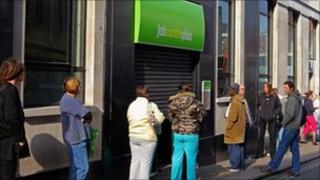 Jobseekers who cannot speak English will be required to take language courses or risk losing their benefits, David Cameron has said.
The prime minister said it would equip people for work and was good for the unemployed, taxpayers and the economy.
In future, Job Centre staff will send people to take courses if they feel they lack the correct skills.
Critics say plans to make benefits more conditional could harm the vulnerable and be undermined by a lack of jobs.
The announcement came as peers began debating the government's welfare reform bill for the first time on Tuesday.
The centrepiece of the government's approach is a new single Universal Credit, which will bring together six income-related work-based benefits, such as child tax credit and income support.
'Wasting money'
The proposed legislation - which will also be considered in depth by MPs - introduces stricter rules on people losing their benefits if they refuse a job.
Mr Cameron said benefits should be more conditional on people's willingness to look for work.
"We are getting rid of the old idea that you can get your welfare without conditions being put on that," he said during a visit to an employment support centre in London.
People with poor English skills will be referred onto specialist English language training courses and if they refuse to attend any recommended courses, they could have their benefits stopped.
"So we are saying that if there's something you need to help you get a job, for instance being able to speak English and learn English properly, it should be a requirement that you take that course, do that study in order for you to receive your benefits."
"That's good for you because it's going to help you get a job, it's good for the taxpayer because we won't be wasting money on welfare that's unnecessary, and it's good for the economy because we want more people in work creating a bigger, more productive economy."
Savings scepticism
Earlier on Tuesday, ministers said they wanted the Universal Credit to be paid monthly in an effort to prepare people for the world of work.
The welfare bill has been criticised by some campaigners who believe vulnerable people could be made worse off - the government says its aim is to make work pay and reduce fraud.
Even if approved, many of the changes could take 10 years to fully come into effect.
Separately the Commons public accounts committee has questioned whether the Department of Work and Pensions can make projected savings of £2.7bn by 2015.
The cross-party group of MPs said officials "lack a clear plan" to make savings and were relying on a new IT system and "optimistic" assumptions about an increase in claims being made online.
The DWP said it had a clear commitment to making the savings on time.