UK withdraws from United Nations racism event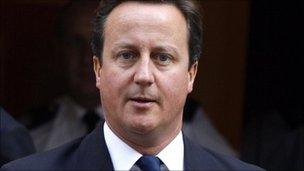 The UK has pulled out of a United Nations event marking the 10th anniversary of the World Conference on Racism in South Africa.
Prime Minister David Cameron said the 2001 conference in Durban "saw open displays of unpleasant and deplorable anti-Semitism".
He said it would be "wrong to commemorate those displays", adding: "Indeed, they should be condemned."
The 2001 conference was dominated by angry confrontations over Israel.
The eight-day event in Durban was originally designed to produce a show of international unity on the issue of racism, but it was overshadowed by rows about the Middle East conflict and the wording of a draft final document.
The United States and Canada refused to send high-level representatives, objecting to what they saw as anti-Semitic language in the draft text, which tried to define Zionism as racism.
Even after those words were removed, there was further controversy as Arab states pressed for condemnation of Israel's practices towards the Palestinians.
Announcing his decision to withdraw from the event at the UN headquarters in New York later this month, the prime minister said the government was "100% committed to tackling racism both at home and abroad".
But he said that aim "cannot be met by accepting this invitation".
"Ten years ago, the World Conference on Racism saw open displays of unpleasant and deplorable anti-Semitism," Mr Cameron said.
"It would be wrong to commemorate those displays. Indeed, they should be condemned. And that's why the UK will play no part in this conference."
Foreign Secretary William Hague said the conference - and "the anti-Semitic atmosphere in which it was held" - was "a particularly unpleasant and divisive chapter in the UN's history" and "should not be celebrated".
He added: "The United Nations is the right place to discuss these important issues, in a serious way that delivers genuine progress."
A 2009 UN racism conference, which tried to revive the 2001 event's original aims, also ended in acrimony after a speech by Iranian President Mahmoud Ahmadinejad in which he accused Israel of racism against the Palestinians, prompting a walkout.
The conference had already been boycotted by a number of countries including the US, Canada, Australia, Italy and Israel.