Liam Fox claims to be hate campaign victim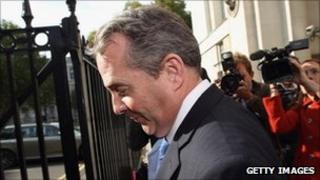 Liam Fox has told friends and colleagues that he is the victim of a hate campaign.
During a robust and confident performance in the Commons on Monday the defence secretary attacked what he called "whispering in the weeds".
It is now clear what he was referring to. Hints, nudges and winks about his sexuality have turned into specific accusations made in today's papers.
The Sun claims that the Tory press operation covered up the fact that a young man (not Adam Werritty) was in Mr Fox's flat when it was burgled before the election. The Mail claims that he was using taxpayer-funded flights to arrange short holiday breaks with Mr Werritty.
The key - and legitimate - question now is not about the defence secretary's private life but what Adam Werritty's role was and how he paid or was paid for following Liam Fox around the world.
One of Liam Fox's friends told me Mr Werritty was "a groupie who kept turning up pretending to be something he wasn't".
However, my understanding is that when Werritty handed out business cards claiming to be an adviser to Mr Fox that was pretty close to the truth.
Fox regards himself as an outsider. He was a champion of Margaret Thatcher, Ronald Reagan and the Atlanticist cause long after it had gone out of fashion.
In government, just as he had in opposition, he wanted to talk to someone who thought like he did, who could ask the questions he would, who was on his side.
Sympathetic ear
Werritty is, I'm told, prepared to open his books to the official inquiry into his role.
They will show, I'm told, that he was paid not for lobbying but for "political and strategic advice" by a number of wealthy private clients who share his and Mr Fox's view of the world.
In one way, this explanation may clear things up for Mr Fox. In another, though, they may make things more tricky.
It appears that Mr Fox may have been getting and seeking private advice paid for by political sympathisers without the restraints placed on political advisers who work within the civil service and are paid for by the taxpayer - the political equivalent of the banks' "off balance sheet" activity.
This is what Mr Fox put his hands up to at the weekend.
The defence secretary is in Paris today hoping to celebrate the day Libyans declare that they have been liberated from Gaddafi's forces.
Instead, Fox is wondering what he needs to do next to see off the hounds.