Royal succession change plans 'likely to get Commonwealth backing'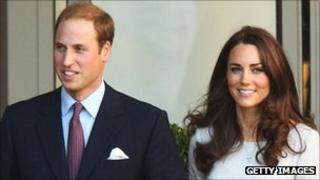 Changes to the rules on succession appear likely to be backed by the 15 other countries who have the Queen as their monarch, a minister has said.
At present, the Act of Settlement gives boys the right to leapfrog their older sisters to inherit the British throne.
Lord Howell said Commonwealth leaders are likely to agree to give girls the same right of succession as boys.
Changes would apply to children of the Duke and Duchess of Cambridge - even if they were born before a law change.
It would mean, if the couple had a first-born daughter, she could become Queen.
The change would not, however, apply to previous generations, so Princess Anne would not leapfrog her younger brothers Andrew and Edward to become fourth in line to the throne.
The Commonwealth minister said he expected them to agree to reforms at the Chogm summit in Perth, Australia, later this month.
'Historical anomaly'
Lord Howell told journalists: "I think [it will be] agreed that this is the right way to go forward and that processes should be set in motion - legislative and otherwise - for it to happen."
Any changes require the agreement of all 16 Commonwealth nations who have the Queen as their monarch. These are: the UK; Canada; Australia; New Zealand; Jamaica; Antigua and Barbuda; the Bahamas; Barbados; Grenada; Belize; St Christopher and Nevis; St Lucia; the Solomon Islands; Tuvalu; St Vincent and the Grenadines and Papua New Guinea.
Prime Minister David Cameron consulted Commonwealth countries about the plans earlier this month.
Mr Cameron also said the ban on any monarch married to a Roman Catholic was an "historical anomaly" and could not "continue to be justified".
But he did not propose changing the ban on Roman Catholic monarchs, because the British monarch is also supreme governor of the Church of England.