Man charged after egg attack on MP Sir Stuart Bell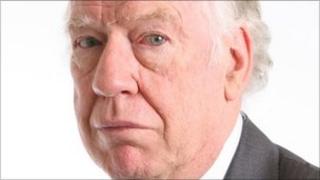 A man has been charged after Labour MP Sir Stuart Bell was hit by an egg during a Remembrance Day parade.
Former police officer turned mayor Ray Mallon - nicknamed "Robocop" for his zero-tolerance policing style - made a citizen's arrest after the incident in Middlesbrough on Sunday.
Cleveland Police said a 54-year-old man had been charged with common assault.
Sir Stuart has been MP for Middlesbrough since 1983.
Mr Mallon, who worked for Cleveland Police before being elected mayor in 2002, was unable to comment on the incident as he was due to make a statement to police, his spokesman said.
Sir Stuart also did not want to comment, but said: "It was a fine Remembrance Day Service, the best in my 30 years of attendance."