Border checks were relaxed at Cardiff Airport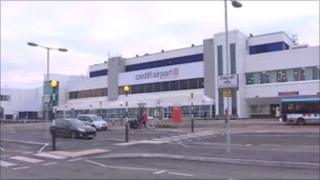 Cardiff Airport was among 28 locations where passport checks were relaxed under a pilot scheme, it has emerged.
The scheme was introduced earlier this year by Home Secretary Theresa May, but she says the UK Border Force extended the scheme without her permission.
Brodie Clark, the former head of the force, resigned and intends to sue the Home Office for constructive dismissal.
Mr Clark will explain why he resigned to the Home Affairs Select Committee in Parliament on Tuesday.
The home secretary has revealed her pilot scheme to reduce passport checks on some citizens of EU countries was used at 28 ports and airports.
They included Cardiff, Heathrow, Gatwick, Glasgow, Harwich, Manchester Airport and Aberdeen.
More passengers
The details emerged in response to written questions from the chairman of the Home Affairs Committee, Keith Vaz.
Ms May claims the UK Border Force extended the pilot to thousands more passengers without her permission.
Mr Clark was suspended, before later resigning, and has claimed his position was made untenable by the Home Secretary.
He denies going beyond ministerial orders and strongly disputes her version of events.
It is understood Mr Clark's defence is likely to be that he extended the pilot scheme on police advice.