Strikes: Labour MPs cross Commons picket line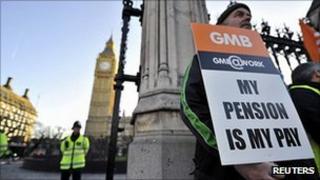 Labour MPs have attended Parliament despite picket lines for the strike over public sector pensions.
Leader Ed Miliband was at Prime Minister's Questions, accusing the PM of "demonising" low paid workers.
But Labour backbencher John McDonnell, who joined the picket line, said Mr Miliband should be supporting the strike.
The GMB union, which sponsors many Labour MPs, said it wanted them at Parliament representing constituents.
Parliamentary workers are among those striking over changes to public sector pensions and are picketing outside Parliament.
A spokesman for the GMB union emphatically denied Conservative claims that it had told Labour MPs they would need its permission to cross picket lines to attend Parliament.
Union 'subservience'
The Conservatives were responding to a story on the Waugh Room blog which quoted a GMB regional organiser as saying: "Any MP who has urgent business in the House, as long as they speak to the union, will be given an exemption."
Conservative deputy chairman Michael Fallon described it as the "most shocking example yet of Labour's subservience to the unions".
But the GMB said, if the comments were made, they were just a "personal opinion" expressed by one member.
A spokesman told the BBC: "The GMB are not asking MPs not to cross the picket line. Our position is we want them inside Parliament during prime minister's questions doing their normal job, representing the people.
"We are of course asking them to express support for the strikes [but] the suggestion that people need our permission to get into Parliament is nuts."
'Right thing'
However Mr McDonnell, who was among a handful of Labour MPs who pledged not to cross the picket line in a letter to the Guardian, told the BBC on Wednesday: "Ed Miliband this morning has said very very clearly he is not supporting the dispute. I am, I think it's the right thing to do and I'm hoping he will listen to some of the people that are on these picket lines.
"Some of these people have never been on strike before in their lives, some unions have never been on strike in their history. That's how angry people feel and I think the Labour Party and the Labour leadership should be reflecting that anger."
Mr Miliband came in for much criticism after describing an earlier strike in June as "wrong", because negotiations over public sector pension changes were still going on.
Mary Bousted, leader of the Association of Teachers and Lecturers, told a rally in London his stance was a "disgrace" and he was heckled at the TUC conference.
On Tuesday, shadow chief secretary to the Treasury Rachel Reeves told BBC Newsnight: "I don't support the strike because it's a sign of failure" but she added: "We understand why they are striking because effectively a tax increase on public sector workers."
But Mr Miliband said on Wednesday: "I'm not going to condemn public servants who feel they're in an impossible position. It is the government's failure that has led to today's strike."
A Labour spokesman said Labour MPs were expected to attend Parliament "so as to hold the government to account and press for a negotiated settlement to this dispute".
In Scotland, Labour MSPs pledged not to cross picket lines at Holyrood, while Labour Assembly Members in Wales will not cross picket lines at Cardiff Bay.
The Scottish National Party has criticised Labour MSPs over their stance.
SNP MSP Kenneth Gibson said: "It is utterly hypocritical that when Labour MPs are attending Westminster, when Scottish Labour MPs including the former prime minister are leading debates in Westminster, and when the UK Labour leader says he does not support the strike, for Labour MSPs in search of leadership votes to abandon Parliament for a day."