Fake Ugg boots seizure in Southampton 'Europe's biggest'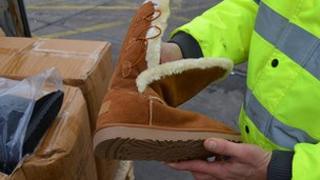 Thousands of pairs of fake Ugg boots have been confiscated at Southampton docks, thought to be the largest ever seizure of its kind in Europe.
More than 45,000 pairs of the boots were discovered by UK Border Agency officers inside six containers.
The agency estimated the boots would have sold for a total of just under £9m, had they made it into shops.
The containers originated from China and had been destined for Manchester, Border Force officer Phil Dunn said.
Southampton's trading standards officers are now warning Christmas shoppers to be careful about what they buy and where they buy it from.
Mr Dunn said: "Very quickly we realised, when we opened up the container, that there was lots of unmarked packaging which is slightly unusual and maybe an indicator that there was counterfeit goods in there.
"On examination we found what looked like Uggs, but closer examination showed the quality of them and no way in the world they could be deemed to be Ugg boots.
Private prosecution
"This was a very large scale attempt to smuggle counterfeit goods into the UK and [the] approximate retail value was just under £9m," he added.
Councillor Royston Smith, leader of the city council, said: "I'm delighted that these fake goods have been seized.
"It is vitally important for our honest traders that fake goods are seized and the culprits brought to justice.
"It also sends a message to people thinking they can get their illegal goods through Southampton, that they will likely get caught."
After the boots were seized, Border agency officers approached the rights holder for Ugg, Deckers Outdoor Corporation, to verify the products were fakes.
Deckers will now make a decision whether to bring a private prosecution against the importer, UKBA said.
No-one from the firm, based in Santa Barbara, California, USA, was available for comment.