Ed Balls and George Osborne enter festive spirit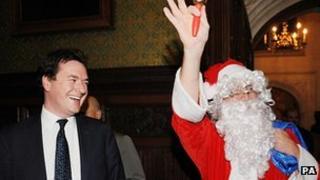 George Osborne and Ed Balls may not often share a joke together but it was all smiles for both men at a party for MPs' children in Parliament.
The shadow chancellor appeared as Father Christmas before his arch political opponent and the 130 children gathered for the annual event.
The Westminster Kids Club Christmas Party has been organised for the past decade by Labour MP Keith Vaz.
Proceeds from a raffle held will be donated to the War Child charity.