Defence committee: Fears for future care of troops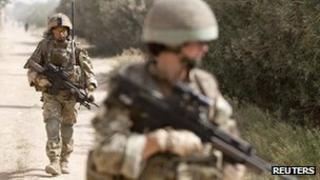 Fears for the care of troops returning from service with severe injuries and mental health problems have been raised by an influential group of MPs.
The Commons Defence Committee praised "the first-class medical treatment" available but questioned whether it was sustainable in the years ahead.
MPs also called on ministers to exclude armed forces injury compensation from the means testing of benefits.
Their report follows the introduction in May of the Armed Forces Covenant.
The covenant sets out the "moral obligation" to support service personnel.
'Brave and skilful'
The committee said there was a "question mark" over whether the government had fully understood the scale of the demands that would be placed on services for troops in the future.
The government has indicated that the means-testing issue could be changed next year.
But MPs warned: "There is a risk that in the short term some members of the armed forces might be disadvantaged."
There was concern that the support the MoD gave to the families of service personnel did not match the "outstanding care" in many other areas.
The committee raised fears that troops could be affected by the government's shake-up of the NHS in England.
The report said: "We are concerned that the arrangements put in place by the MoD for the transition of personnel may be disrupted by the future re-organisation of the health service in England."
The committee was also concerned that donations to charities which fund projects for troops would fall when forces are withdrawn from Afghanistan.
It was suggested that these organisations were supporting schemes that should be paid for by the MoD.
The MPs warned that the MoD had "yet to recognise the seriousness" of the misuse of alcohol, and called on it to conduct a study on drinking behaviour among the military.
Committee chairman James Arbuthnot said: "We, as a committee, have seen how determined our injured servicemen and women are to achieve the fullest possible recovery from their injuries.
"They see it as duty to get better and to return to their units if at all possible.
"And we have been impressed by the brave and skilful personnel, both military and civilian, who are providing the medical care that our armed forces need.
"But we need to have the confidence that such specific treatment, for injuries hardly ever seen in the general NHS experience, will continue long after an individual's retirement and into old age."
Meanwhile, the head of the British armed forces has said the biggest strategic risk facing the UK is economic not military.
Gen Sir David Richards said the state of the country's finances should by the UK's main focus as "no country can defend itself if bankrupt".
But he said Britain would remain powerful compared with its allies despite cuts to the defence budget.