Foreign criminals deported 'at earliest opportunity'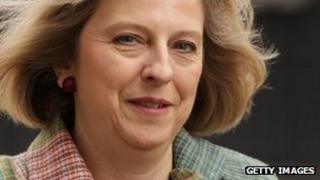 The Home Office says it is doing all it can to speed up the deportation of foreigners convicted of serious crimes.
The Sunday Times has obtained a leaked UK Border Agency report that details re-offending by foreign criminals who have served jail terms in Britain.
Labour has called on Home Secretary Theresa May to give an "urgent" explanation.
The Home Office said the agency worked with police and corrections staff to reduce the risk of re-offending.
The report showed some ex-inmates had been arrested for violent crimes while awaiting deportation, the paper said.
The Sunday Times said the confidential UK Border Agency (UKBA) report showed re-offending by foreign criminals in Britain included murders, kidnapping and sexual offences.
Shadow home secretary Yvette Cooper said: "The home secretary needs to explain urgently why the number of foreign national criminals deported has dropped so much, and why so many more foreign criminals have suddenly been left in the community instead."
In response, the Home Office said the government believed foreign criminals should be returned to their home country "at the earliest opportunity".
"However, we have to operate within the law, and where the courts rule that there is no prospect of removal - because of human rights law or a lack of cooperation from the criminal's home state - they may order that foreign national criminals should be released into the community at the end of their sentences," it said.
The Home Office said deportation action now began 18 months before the end of foreign criminals' sentences and that more flights were being chartered to remove foreign offenders.
"We will change the immigration rules to cut abuse of the Human Rights Act, we'll open more foreign national-only prisons, and we'll be able to remove more European offenders through the Prisoner Transfer Agreement," it said.
In October, the independent inspector of the UKBA said more than 5,000 foreign criminals awaiting deportation remained in the UK.
John Vine said the number who were not deported or could not be deported at the end of their sentence was increasing and that the majority of successful appeals against deportation were made on human rights grounds.
His report showed that between 2007 and 2010, 20,360 foreign national prisoners were deported from the UK - 5,235 last year alone.