MPs to debate EU membership pros and cons bill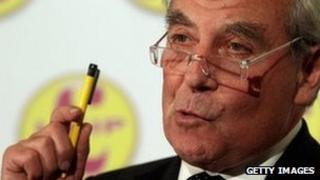 A bill calling for any inquiry to weigh up the economic costs and benefits of the UK's membership of the European Union will be debated in the Commons.
Proposed by UK Independence Party peer Lord Pearson, it passed its third reading in the Lords without a vote.
A committee with pro-EU members and Eurosceptics will carry out the inquiry and present it to Parliament.
Lord Pearson said he hoped the results would increase pressure for a referendum on EU membership.
The European Union Membership (Economic Implications) Bill will go before the Commons next year.
'Cloud of ignorance'
Lord Pearson - the former UKIP leader whose party campaigns for the UK to leave the EU - predicted the inquiry would conclude that the cost of EU membership was "colossal".
"For far too long the government has simply maintained that the benefits of membership are so overwhelmingly obvious that such an analysis would be a waste of time and money," he said.
"The people of Britain are no longer prepared to accept this."
He added: "It is in the interests of every single one of us that this ongoing debate [about EU membership] is conducted from a position of knowledge rather than in a cloud of ignorance, obfuscation and dishonesty."
Under the bill, the committee of inquiry would include two Eurosceptics, two pro-EU members, two who had no firm view, and an independent chairman.
Its findings would not be binding - its report would merely be laid before Parliament.
During the bill's second reading debate last month, Lord Pearson claimed EU "over-regulation" cost the UK about 6% of GDP each year, and said the he common agricultural policy (CAP) left Britons paying over the odds for food
Former Conservative Treasury spokesman Baroness Noakes spoke in support of the bill, disclosing that she was not proud of her party's "failure to rectify" Labour's decision not to hold a referendum on the Lisbon Treaty.
But Labour's Lord Davies called Lord Pearson's arguments "unconvincing" and "sometimes specious", and predicted that his plan for EU withdrawal would be "disastrous", particularly for British farmers who would be left at an "enormous" competitive disadvantage to subsidised EU farmers.
That said, Lord Davies told peers the bill was "an excellent idea", because he was "quite confident" that any such inquiry would decide that the benefits of EU membership outweigh the costs.