Work plan for 'troubled families' across England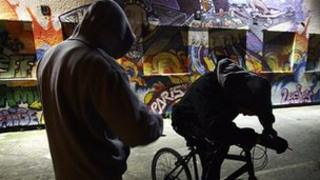 Ministers have announced more details of their programme to help "troubled families" in England.
Eight specialist welfare-to-work firms have been appointed to help individuals overcome barriers to getting a job and staying in work.
These include skills like timekeeping, writing a CV and job interviews.
It comes as Labour signals a tougher approach to benefits, saying the current system has "skewed social behaviour".
The government has set itself a goal of turning around the lives of 120,000 "problem families" which it says are costing the state billions of pounds through the NHS and the criminal justice system.
Last month, David Cameron pledged £450m for a network of "troubleshooters" to identify those families most in need.
'Real commitment'
Employment Minister Chris Grayling outlined details of how the government hopes to encourage individuals who have not worked for many years to get back into the workplace.
Specialist providers from the voluntary and private sector will be paid by results if they meet certain targets, culminating in helping people finding a job.
They will also provide specialist advice on issues like family finances, managing relationships with schools, as well as housing and health problems.
The initiative, which covers families in England with at least one person on out-of-work benefits, is being backed by £200m in funding from the European Social Fund, money the UK receives from the European Union each year.
"The organisations taking part in this programme are staking their own money on their ability to turn the lives of these people around," Mr Grayling said. "We now have a comprehensive programme, built on a partnership between national and local government, that I believe can make a real difference to these troubled families."
Meanwhile, the Shadow Work and Pensions Secretary Liam Byrne has said that the benefits system as a whole is providing support for those who have not earned it, going against the original principles of the welfare state.
Writing in the Guardian to mark the 70th anniversary of the Beveridge Report that provided the blueprint for the welfare state, he identifies three key flaws: the burgeoning housing benefit budget, benefits for long-term unemployment, and the lack of proper rewards for long-term savers.
"Beveridge would have wanted reform that was tough-minded and asked everyone to work hard to find a job," he said.
"He would have worried about the ways his system had skewed social behaviour because he intended benefits to help people who had their earning power interrupted because of illness, industrial injury or the capriciousness of the trade cycle.
"He never foresaw unearned support as desirable."
He also hints at bringing back the contributory principle as a building block of the welfare state so there is a clearer link between what people put in and what they receive.