Councils have 'moral duty' on tax - Eric Pickles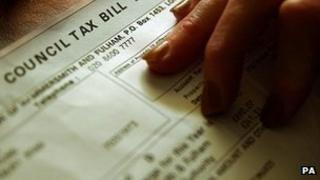 Councillors have a "moral duty" to sign up to the government's council tax freeze, Communities Secretary Eric Pickles has said.
Some local authorities in England have said they will increase council tax and reject money from central government.
Mr Pickles said council tax rises were a "kick in the teeth for hard-working, decent taxpayers".
Many of the councils planning increases say it is the only way they can protect services in light of government cuts.
Government figures indicate that 142 councils in England have so far promised to freeze bills this year.
Money has been offered both last year and this year to local authorities promising to freeze council tax, although the government cannot force them to do so.
Significant rebellion
Last year's freeze was observed by all councils.
But BBC local government correspondent Mike Sergeant says this year there is a small but significant rebellion under way.
A number of Labour-controlled authorities, including Leicester, Nottingham, Darlington and Stoke-on-Trent, are planning increases of up to 3.5% from April.
Conservative-led Surrey, Chelmsford and Peterborough have also announced plans for a rise in recent weeks.
Last month, Mr Pickles said any local authority in England wanting to raise council tax by more than 3.5% this year must consult the public in a referendum.
Councils seeking to raise bills in tough economic times needed a "direct democratic mandate" to do so, he said.