Polling station law 'must be changed before 2015'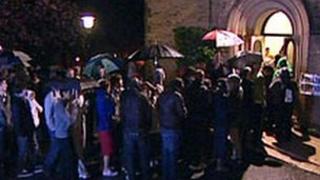 The law should be changed before the next general election to allow anyone queuing at the ballot box when polls close to vote, a report says.
At present, polling stations must close at 2200 and no ballot papers are issued after that - although everyone issued with a paper by then can vote.
At the 2010 general election, police had to be called to deal with angry voters after hundreds were turned away.
The Lords Constitution Committee said that situation must not be repeated.
The Electoral Commission has said it believes as many as 1,200 voters were affected at 27 polling stations in 16 different constituencies in May 2010.
Those constituencies were spread across the county in cities including Sheffield, Manchester, Birmingham, Liverpool, Newcastle and London.
'Chaotic scenes'
The Law Commission is currently carrying out a review of electoral law, but it is not due to report until 2017.
The crossbench Lords Constitution Committee said the matter could not wait and called on the government to take action before the next general election, scheduled for 7 May 2015.
The law at present states that votes may be cast immediately after 2200, but only if the ballot paper was formally handed to the voter before that deadline.
Ballot papers cannot be handed out after that time has passed to anyone queuing outside the polling station - even if they joined the queue before 2200.
Both the Lords committee and the Electoral Commission say the current situation is unsatisfactory and must be clarified.
Chairman Baroness Jay said: "If we are to ensure there is never a repeat of the chaotic scenes we saw in 2010 the government must now amend the law to ensure voters in a polling station, or in the queue at a polling station, at 10pm on polling day are allowed to vote.
"This cannot wait for a Law Commission review that doesn't report until 2017, the government should make these changes before the next general election."
The head of the Electoral Commission, Jenny Watson, gave evidence to the committee last year.
She told members the commission had asked the government to change the law, but without success.
"I think it is fair to say that so far the response has been: 'We don't quite see the case as made' - and I think we will continue to make the case," she said.