Get tough on scrap dealers to cut metal theft, MPs urge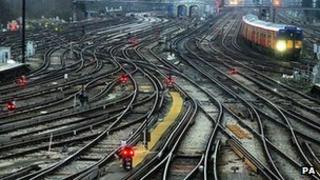 Anyone trying to sell scrap metal should have to prove their identity, a group of MPs has said.
The Transport Select Committee also said the government should test a ban on cash payments for scrap to try to tackle the problem of metal theft.
Thefts from railways caused disruption to 3.8 million passengers last year and cost more than £16m.
Rail Minister Norman Baker said it was considering new legislation to regulate the scrap metal industry.
The metal recycling industry is worth about £5.6bn and employs almost 8,000 people in the UK.
But there are concerns about the number of illegal sites and about dealers prepared to accept metal in return for cash without any information about its origins.
Aggravated trespass
The transport committee said the government must act with "more urgency" to tackle the problem and made a number of suggestions:
create a new offence of aggravated trespass on the railway to help deter cable thieves
give more powers to police to inspect both registered and unregistered scrap metal yards
reform the Scrap Metal Dealers Act 1964 to require anyone selling metal to provide proof of identity before a transaction can take place
test the use of cashless trading in the scrap metal industry to make transactions of stolen materials easier to trace
The MPs said the scrap metal industry was the "weak link" in efforts to combat the crime, but also called on Network Rail to make cable more difficult to steal.
They said there should be greater clarity around compensation arrangements to make sure train operators cannot profit from disruption caused by cable theft.
And they called for more information on what efforts were being made to help passengers left stranded by cable theft.
Committee chairman and Labour MP Louise Ellman said theft was "made easy by the way in which stolen metal can be sold to scrap metal dealers".
"We need urgent reform to improve the audit trail generated by the scrap metal industry so that criminals selling stolen metal into the trade can be identified much more easily," she said.
Mr Baker welcomed the report and said many of its recommendations were already being implemented by the government and rail industry.
"The metal theft task force announced in the Autumn Statement is already getting under way to target the thieves and those who trade in stolen metal," he said.
"We are also examining other options, including legislation to tighten the regulation of the scrap metal industry."
'Working tirelessly'
Dyan Crowther, director of operational services at Network Rail, said: "We're doing all we can to protect our rail network - investing around £2m each year on mitigation measures, including funding extra [police] officers, using CCTV, forensic marking techniques and other technology.
"To an extent our actions can help us manage the crimes but, despite our efforts, they continue to increase.
"We believe that the only way to significantly reduce metal crime is to take away the illegal market and that more robust legislation and police powers are needed to achieve that."
Michael Roberts, chief executive of the Association of Train Operating Companies, also welcomed the idea of new legislation.
"Train companies are working tirelessly with the rest of the industry to tackle the problem, and will continue to call for tougher measures to allow police to close down rogue traders for good," he said.