Party funding: MPs urge government to stick to reform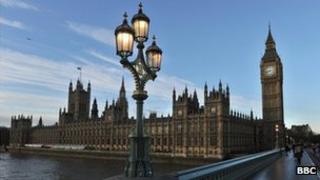 The government must stick to pledges to reform party financing - or risk any future scandal further undermining confidence, MPs have warned.
The Political and Constitutional Reform Committee called on ministers to look again at the issue.
An independent inquiry in November recommended a £10,000 annual cap on individual donations from 2015 - partly funded by a £23m taxpayer subsidy.
But the three major political parties ruled out additional taxpayer funding.
The committee acknowledged that a cross-party solution would "not be easy to achieve".
But its report warned: "Public confidence in politics risks being further undermined if some future scandal intervenes before a solution is in place."
Committee chairman Graham Allen said: "Public concern about party political funding continues to undermine confidence in politics and MPs.
"It is high time this issue was resolved. The publication of the report of the Committee on Standards in Public Life provides a golden opportunity for the government to get this issue back out of the box marked 'too difficult' and make a serious effort to find a fair solution which is acceptable to all parties."
A Cabinet Office spokesman said the government would respond to the committee's report "in due course".
Cross-party discussions
"The government does not believe the case can be made for greater state funding of political parties at a time when budgets are being squeezed and economic recovery remains the highest priority, but we are committed to limiting donations and reforming party funding," the spokesman said.
"This is best achieved as far as possible by consensus and to this end the government plans to continue cross-party discussions."
At present there are no limits on donations, but the name of anyone who gives more than £7,500 to a party is made public.
The Committee for Standards in Public Life's report in November noted that both the Conservatives and Labour would be hit by its proposed reforms - while the Lib Dems, whose income is far lower, would be likely to benefit.
The coalition's programme for government promised to "pursue a detailed agreement on limiting donations and reforming party funding in order to remove big money from politics".