Government offers NHS bill concessions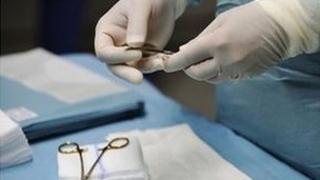 The government has promised the health secretary will keep ultimate control over the NHS in England, as it pushes for Parliament to pass its health bill.
The legislation, which would bring a fundamental reorganisation of the service, has encountered opposition from peers and various groups.
But ministers have published amendments aimed at quelling unrest.
These include giving more powers to a new health watchdog and doing more to encourage medical research.
Labour peers believe there have been significant concessions on research and education but are unlikely to be appeased over more controversial issues around competition and the watchdog's role, the BBC understands.
Through the Health and Social Care Bill, Health Secretary Andrew Lansley is proposing the biggest shake-up since the NHS was founded in 1948.
'Backdoor privatisation'
Under the plans, groups of GPs will take charge of much of the NHS budget from managers working for primary care trusts, while more competition with the private sector will be encouraged.
On Wednesday, the government said it wanted to give GPs " a full spectrum of options" in how they use funds, so they can decide when and if to ask private companies and charities to compete with the NHS to care for patients.
Mr Lansley said the core principles of the plans had been widely accepted.
But he added: "We have been carefully listening to the ideas raised as the bill has progressed through Parliament. We have today tabled a series of amendments to address these remaining issues."
The British Medical Association, the Royal College of Nurses and the Royal College of Midwives had all opposed the proposals, with some critics claiming they are unworkable and amount to "backdoor privatisation".
This led Prime Minister David Cameron to "pause" the proposed shake-up in April last year.
The bill returns to the House of Lords next week and the government's amendments are aimed at bolstering support.
One states that the health regulator, Monitor, will have the power to require that healthcare providers supply "integrated services", where competition may not be in patients' interests.
For instance, hospitals would have to work more closely with district teams after patients are discharged.
Patient power
Another stipulates that medical research should be a "core function" of the NHS, to allow it to keep pace with foreign competitors.
The remaining amendments promise patients a greater say in how health services are commissioned and impose a new duty on the health secretary and NHS commissioners to report progress in tackling health inequalities.
In a further effort to appease critics concerned about accountability, an amendment will "explicitly clarify that the secretary of state retains ministerial responsibility to Parliament for the provision of the health service in England".
Changes are already being made to pave the way for the new system provided by the NHS bill to start in 2013.