Clegg: Lords changes won't weaken MPs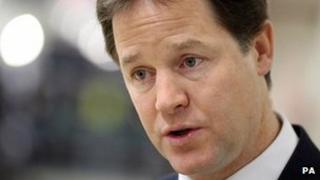 Nick Clegg has insisted that plans to reform the House of Lords will not weaken the Commons.
The government wants to make the Lords 80% elected and to cut the number of members from about 800 to 300.
But the deputy prime minister said that while this would give peers a more "legitimate" role, it would not make them more "assertive".
However, he was urged by members of the Lords Constitution Committee to look further into the issue.
Shortly after the coalition took power in 2010, Mr Clegg promised the "biggest shake-up" of British democracy since the Great Reform Act of 1832.
Among its plans was creating a House of Lords which is at least 80% elected. Currently it is composed of appointed life peers, senior bishops and 92 remaining hereditary peers who vote among themselves for who should join them when one of their number dies.
Peers under the new system would serve single terms of 15 years.
The government also wants to reduce their number to 300, arguing that this will save money and streamline the democratic process.
'Waxed and waned'
But opponents argue that raising the profile of the Lords will mean it competes with the Commons, rather than - as is usually the case now - refining its legislation.
They add that the reduced size will make it harder to scrutinise bills properly.
However, Mr Clegg told the committee: "The House of Lords has been quite large in the past... It has waxed and waned a bit. It's not a new problem."
He denied that the influence of the 1911 and 1949 Parliament Acts, giving the Commons ultimate power to get legislation through Parliament even if it is opposed by the Lords, would be affected by change.
The deputy prime minister said the composition of the Lords had "already changed quite considerably".
The creation of more life peerages for former MPs in recent years had "created a far more partisan and tribal quality of debate", he added.
Elected peers would not necessarily add this or make the Lords more ambitious to undermine the primacy of the Commons, he argued, adding: "The asymmetry of the House of Lords and relationship of the two Houses that exists now do not, in and of themselves, have to be rewritten...
"In countless bicameral systems in the world there's an asymmetry between the two chambers, even though they are both largely elected."
Mr Clegg was asked if it was the "logical" conclusion was that, if peers were elected, they would become "more assertive about the power that they exercise".
But the deputy prime minister replied that "what you have at the moment is the worst of all worlds" because peers were becoming "less diffident" but still acting without democratic "legitimacy" - and that this would change with elections.
Mr Clegg would not divulge whether legislation to alter the Lords would be included in the Queen's Speech, expected to take place in the spring.