Changes needed if cuts targets to be hit, says watchdog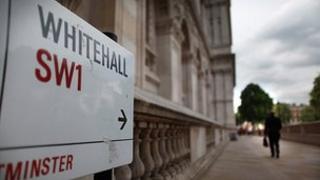 "Fundamental changes" are needed if the government is to hit savings targets by 2015, the National Audit Office says.
Departments had cut costs successfully in 2010-11 but "much more" would need to be cut over the next four years, the spending watchdog said.
Most had an "overall vision" for cutting costs but had yet to come up with a "detailed plan" for doing so.
Ministers said plans were "on track" and the report confirmed they were already making "tangible savings".
The government has insisted that curbing growth in spending was vital to getting to grips with the budget deficit and keeping borrowing costs low, but Labour have said they are going "too far and too fast".
Analysis by the NAO found departments spent £7.9bn less in 2010-11, as capital, administrative and programme budgets were all reduced and they had "successfully managed" within the new limits.
In its first study of how Whitehall has cut costs, the NAO said departments had taken "effective action" to limit direct spending by a total of 2.3% compared with 2009-10 levels.
Reductions in administrative costs - such as cutting back on the use of consultants, a freeze on new IT contracts and selling unused properties - accounted for £1.5bn of these savings.
The NAO estimates there are now 21,200 fewer full-time staff working across government than in 2009-2010, although £406m in compensation has had to be paid out to civil servants leaving early.
Total capital spending across government fell by £1.6bn while departments also found £4.8bn in further savings - with 11 of them cutting spending on specific projects and initiative.
The Department of Environment, Food and Rural Affairs saw the single biggest fall - of 11% - in "programme spending" as it reduced grants and rural payments.
Front-line services
The Department for Energy and Climate Change and the Department for Business saw cuts of 9% each while the Department of Communities and Local Government cut spending by 7% - as council grants were reduced.
On the other hand, spending on International Development - which is ringfenced from budget cuts - rose by 19% while budgets for Education, Defence and Work and Pensions rose marginally.
And total managed expenditure - the government's preferred measure which includes all central and local government spending including welfare - rose by £700m, or 0.1%, to £689bn.
The watchdog said it could not be sure at this stage whether cuts in certain departments were merely the product of efficiency gains or whether front-line services had been affected.
And it warned that departments were far less well-placed to meet future cost-cutting goals - with most expected to deliver real-terms budget cuts of 19% by 2015.
Short-term belt-tightening measures would not suffice, it warned, and departments needed a better understanding of their future costs and how they could continue to deliver services with fewer resources.
Unemployment
Past experience suggested that 20% of annual savings were never achieved, the watchdog added, and it warned departments against slipping back into old spending patterns.
"Government departments have been successful in cutting costs and managing within their reduced spending allocations for 2010-11," the NAO's head Amyas Morse said.
"However, most departments will need to cut their spending by much more over the next four years. This will not be possible without their recognising that fundamental changes are needed.
"Departments will achieve long-term value for money only if they identify and implement new ways of delivering their objectives, with a permanently lower cost base."
Labour argue the coalition's approach to cutting spending has stalled the economic recovery and pushed up unemployment and borrowing.
Margaret Hodge, the Labour MP who chairs the cross-party Public Accounts Committee, said: "We can look at individual examples of the impact of cuts on front-line services but there is no big picture assessment.
"Departments must look to deliver services in radically more efficient ways and not simply cut front-line services.
"Departments will need to develop a clear vision of how they work with less money. Failure to achieve this will risk front-line services and long-term value for money."
Chancellor George Osborne acknowledged last year he would not meet his target to eliminate the structural deficit within the current Parliament and further spending cuts would be needed after the next election - expected in 2015.
But the Cabinet Office said the government was "on track to delivery necessary reductions in spending" and individual departments were "on course to live within their budgets again this year".
"We promised to leave no stone unturned in the hunt for savings at the heart of government and we have delivered on that promise with over £3.7bn of efficiencies in just one year," said a spokesman.
"The National Audit Office has backed our figures 100%, confirming we lived up to our promises and delivered real, tangible savings for taxpayers."
Officials said changes to how the civil service works, an overhaul of public sector pensions and reforms to procurement practices would reduce long-term costs.