'Top Totty' beer removed from MPs' bar after complaint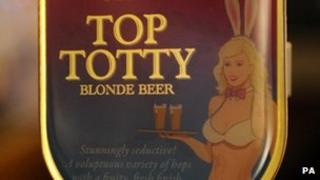 A beer named Top Totty and advertised with a picture of a scantily-clad woman has been withdrawn from a Westminster bar after a Labour MP complained.
Shadow equalities minister Kate Green said she was "disturbed" to hear it was on sale in The Strangers' Bar, which is where politicians can bring guests.
Commons Leader Sir George Young said "appropriate action should be taken" if "offensive pictures" were on show.
A barman confirmed that an hour later the beer had been removed from sale.
The beer, brewed in Stafford by Slater's Ales, was introduced to The Strangers' Bar in 2007.
It sells for £2.70 pint and one barman told the Press Association: "We haven't had any complaints raised with our bar staff."
'Regret'
During business questions on Thursday, Ms Green, Stretford and Urmston MP, said she had only just learned of it, but felt it should be removed because it had "a picture of a nearly naked woman on the tap".
She also called for a debate in the Commons on "dignity at work in Parliament".
In reply, Sir George said he would raise the matter with the appropriate officials, adding: "I would very much regret it if any offensive pictures were on display in any part of the House."
A short time later a member of staff in The Strangers' Bar told the Press Association: "I can confirm it was withdrawn from sale at 1.30pm."
Top Totty is described in one review on the Slater's website as "a stunning blonde beer full bodied with a voluptuous hop aroma".
Conservative MP Jeremy Lefroy, who organised for Top Totty to be sold in the bar, said: "These guest ale slots offer a very welcome opportunity for small independent breweries, like Slater's, to reach a wider audience with their products, some of which have cheeky names.
"However, I can understand that some people may take offence to the marketing, which I am sorry about."
But his fellow Tory MP Tracey Crouch tweeted: "Why is a beer called Top Totty offensive & now banned from Commons? Not as if it is called Middle-Ranking Totty."
UK Independence Party MEP for Stafford Mike Nattrass branded Ms Green "a humourless sort".
"This sort of knee-jerk Puritanism does more to damage the cause of equality than a thousand beer labels," he said.
"It suggests that to be in favour of equality you must be a dour-faced, insult-searching misery."