Sweden's lessons for Cameron on boosting women in business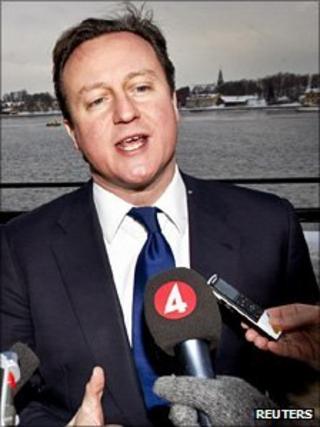 Tax breaks to help working mothers to pay someone to do the housework is an idea the prime minister wants to "look at further".
David Cameron described it as a "very interesting" proposal, during a meeting with other European leaders in Sweden at the Nordic-Baltic Summit in Stockholm.
It is an embryonic idea, which has been mooted by various Scandinavian countries.
There is little detail at this stage on exactly how it could be implemented in the UK but Mr Cameron said he wanted to "listen and learn" from what other countries were doing to encourage more women to go out to work.
Nine prime ministers are at the one-day event. It is a brief, informal meeting, billed more as a chance to exchange ideas rather than the more formal Brussels gatherings. For all of the prime ministers present, Europe's faltering economy is the overriding concern.
Mr Cameron has come to Sweden to learn from the women, specifically the ones in business. He thinks that Scandinavian countries have pioneered a radical approach to try to encourage more women into work, in particular to top executive jobs.
Legal quota
The prime minister believes that is good for the economy as a whole, arguing that there is a "positive link" between women in top jobs and business performance - with wider repercussions for the whole economy.
Others in Stockholm have suggested there might be less corruption and less risk in business, if more women were at the top.
In Sweden 25% of the board positions in big business are filled by women. In neighbouring Norway they have a legal quota of a 40% minimum. In the UK women make up around 15% of places at the top.
David Cameron has said he won't "rule out quotas", although he stressed that he didn't "favour" them and argued that the UK should try "everything short" of quotas - "a range of positive action but stopping short of a positive discrimination in law".
As others in the government have warned of an "anti-business agenda", it's clear that the prime minister does not think that new laws are the way to encourage, or even force, business to change.
The head of the Downing Street Behavioural Insight Team is in Sweden with the prime minister, as is his chief policy advisor Steve Hilton.
Pension age
Both men believe the way to change behaviour is by gently "nudging" people, using more subtle incentives.
David Cameron also said he "loves the idea" of raising the pension retirement age in line with life expectancy forecasts. The prime minister spoke glowingly about the proposal which has been introduced in Norway.
A law there for public sector workers allows the pension age to increase - or decrease in theory - in line with changes in life expectancy.
He won't say it, but there's a nod to domestic politics too on this foreign outing.
The opinion polls have suggested that David Cameron has struggled to win over Britain's women voters; his "calm down, dear" line to a woman MP in Parliament has hurt him.
Focusing on women's role in rescuing the economy won't do him any harm back home.