Lord Lawson: Labour must show patience on economy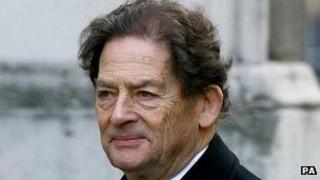 Labour needs to "learn a little patience" when demanding economic growth, former Conservative Chancellor Lord Lawson has said.
He told peers that the government would take a "short cut" to prosperity were one available.
Lord Lawson, who was chancellor from 1983 to 1989, was speaking after figures showing a rise in unemployment were published.
Labour said his comments showed he was "out of touch".
UK unemployment rose by 48,000 to 2.67 million in the three months to December, official figures show, the smallest increase in almost a year.
Women made up two-thirds of that increase and there was a new record in the number of people working part-time who want full-time jobs.
'Sticking to plans'
The government's deficit-reduction strategy came in for criticism in the House of Lords, following the announcement by credit ratings agency Moody's the UK's AAA rating may be downgraded.
Lord Barnett had earlier asked: "Is there not a major problem the chancellor (George Osborne) has concentrated to such a degree on the deficit that he has lost track of where he is taking (the economy)?
"The plain fact is it's the lack of growth, surely, that's doing it. Now, as we know, he's had to extend the balancing of the budget to 2017, which he may well have to extend further."
Lord Lawson replied: "Is it not the case Lord Barnett, despite his great experience, has to learn a little patience?
"Is it not the case that, if there were some short cut to resume growth, the government would certainly take it?"
He later told the BBC that it was "important that politicians are honest with the people".
Treasury minister Lord Sassoon criticised Labour's approach to the economy: "The idea that we should listen to suggestions we should make increased spending commitments now, as has been made clear by markets this week our interest rates will go sky high and our industry will be crippled.
"We are sticking to our plans. The private sector will contribute to very significant infrastructure investment of the sort both you and I would welcome."
In a statement, shadow Treasury minister Cathy Jamieson said of Lord Lawson's remarks: "These comments betray the sheer complacency and lack of urgency from the Tory-led Government in tackling Britain's jobs and growth crisis.
"Telling the 1.4 million people who have been out of work for more than six months to have a little patience shows just how out of touch the Tories are."