London 2012: David Cameron backs Dow as Olympic sponsor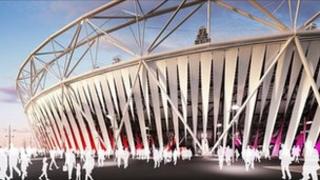 British Prime Minister David Cameron has said he has no problem with Dow Chemical sponsoring the 2012 Olympics.
There are concerns over the company's links to the firm behind the Bhopal gas leak disaster in 1984.
Speaking on Indian TV Mr Cameron said Dow was a "reputable" firm and the Games should not be used for industrial or political purposes.
He said his heart went out to those who had suffered in the incident but that it happened before Dow was involved.
Dow is funding a £7m, 900m (0.56 miles) long by 20m (67ft) high, fabric wrap for the Olympic stadium in east London.
'Reasonable processes'
The company merged with the Union Carbide Corporation - whose subsidiary Union Carbide India ran the Bhopal pesticide plant - in 1999.
It denies any liability for the chemical gas leak and maintains the £288m ($470m) settlement for those affected is fair and final.
But campaigners say the chemical gas leak and its fallout have killed 25,000 people, and that local people continue to be affected.
Rights groups, athletes, Indian and British politicians have all called for the company's sponsorship to be shelved.
Despite the furore over its involvement, Dow has consistently said it would not withdraw its Olympic sponsorship.
In an interview on CNN-IBN Mr Cameron said he understood the sentiment behind the Indian government's call for Dow to be dropped as a sponsor.
Mr Cameron said: "I understand the anger there is… the huge suffering that happened at Bhopal and afterwards and.. my heart still goes out to all those who suffered from that appalling tragedy.
"But I think we do have to recognise two important points.
"First, Dow was not the owner of Union Carbide at the time, so this is a different company and a different business.
"Secondly, and more importantly, the sponsorship of Dow for the Olympics is arranged and done by the International Olympic Committee (IOC). It is their decision making process.
"I cannot see a problem with the IOC being sponsored by Dow. I think it followed perfectly reasonable processes.
"Therefore, I cannot complain about Dow sponsoring the London Olympics and therefore I very much hope that these two issues won't collide at the Olympics."
Speaking about relations between India and the UK he said he did not think the collapsed Eurofighter Typhoon deal had had a negative impact.
He said losing the bid to sell fighter jet to India was disappointing and maintained it was the best aircraft but said it was for the Indian government to decide.
Mr Cameron also defended the proposed hike in university fees, which will affect overseas and domestic students, saying it was necessary to ensure British institutes maintained high standards of education.