Road maintenance cuts may be false economy, MPs warn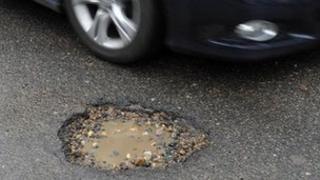 Cuts in spending on road maintenance could cost taxpayers more in the long term and are likely to increase repair bills for motorists, MPs have warned.
The Public Accounts Committee said the UK's road network could deteriorate.
It also said it was "unacceptable" that Network Rail - which spends £3bn of public money a year - was not open to National Audit Office scrutiny.
Transport Minister Norman Baker said councils were being given £3bn for road maintenance between 2011 and 2015.
In the 2010 Spending Review the government announced that Department for Transport spending would be 15% lower in real terms by 2014-15 than its £12.8 billion budget in 2010-11.
Potholes
Ministers expect councils to make significant savings on road maintenance, but the Public Accounts Committee (PAC) said it was not clear how many would be able to do that.
It said the Department for Transport (DfT) also did not have "a full understanding of the likely impact of reducing road maintenance budgets" and overall savings would not be made if deterioration in the network ultimately led to higher repair costs and more claims by motorists against local authorities for damage to their vehicles.
"We are concerned that the department has not estimated the costs of meeting potential extra claims," the PAC report said.
Edmund King, president of motoring body the AA, said his organisation had already seen an increase in callouts for problems linked to poor road surfaces.
"As drivers are paying billions of pounds in various motoring taxes, they expect to be able to drive on main roads bereft of potholes," he said.
"The last thing we want is a vicious circle where the declining state of roads leads to more claims for compensation due to damage and injury, which in turn means less spending on roads."
The PAC was also highly critical of the DfT over the position of Network Rail, which owns and operates Britain's rail infrastructure.
It accused officials of "hiding behind the Office for National Statistics' classification of Network Rail as a private company".
Audit access
Committee chairwoman and Labour MP Margaret Hodge said: "It is unacceptable that Network Rail is still not fully transparent or accountable to Parliament or the taxpayer.
"The department hands Network Rail over £3bn each year and underwrites debt of over £25bn, and yet maintains the fiction that this is a private sector company.
"The National Audit Office must be allowed full audit access as quickly as possible to this organisation which is essentially kept afloat through public funds."
Mr Baker said the government would consider the report carefully and said it did acknowledge "the robust efficiencies we have already put in place and our continued investment in infrastructure".
"I recognise there is an ongoing need for highways maintenance that can't be fixed overnight," he said. "However, we are providing £3bn to councils for road maintenance between 2011 and 2015 which is more in cash terms than the previous four years - as well as investing £6m for longer-term strategies.
"We also gave them generous windfall handouts last year following the severe winter which caused major problems."
Last week, the government announced plans to make £3.5bn of annual efficiency savings across the rail network.
Mr Baker said the package also included measures to make Network Rail's decisions "more accountable".