Ministers discuss U-turn on F-35 fighter planes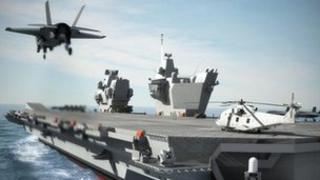 Ministers have debated a possible U-turn over the choice of fighter plane for the aircraft carrier currently under construction.
In 2010 the government decided it would not order the Short Take Off, Vertical Landing variant of the Joint Strike Fighter, also known as the F-35.
David Cameron argued another version of the plane was more suitable.
But the defence secretary, understood to back the original choice, is thought to have met the PM after costs rose.
The decision could have a major impact on BAE Systems, which is involved in the F-35's development.
'Cats and traps'
The prime minister's spokesman refused to comment on whether a meeting had taken place
But he said Mr Hammond would make a statement to Parliament soon.
He said: "The MoD look at their budget on an annual basis. They will be looking at their equipment plan. That means reviewing all their programmes to keep an eye on costs and to ensure that any risks are properly managed.
"The defence secretary makes a statement to Parliament each year setting out the outcome of that process. The plan is that he will do so before Easter."
The cost of two new Queen Elizabeth class aircraft carriers - originally ordered under the last Labour government - has already risen from £3.5bn to around £7bn.
Labour had originally proposed to buy a vertical landing variant of the F-35, which would be launched from a "ski jump" fitted on the new carriers and then land vertically.
The system is similar to that used by the Harrier jump jet on HMS Ark Royal - both of which were scrapped following the strategic defence and security review.
However, as a result of the government's defence spending review, it said in October 2010 that it would change its F-35 order to one for a different "carrier" variant.
This would have a longer range and would be "inter-operable" with the US and French Navy, it was argued.
It would also require significant modifications to the design of the aircraft carriers, including ships being fitted with catapults and arrestor gear - or "cats and traps" - to launch and recover the planes.
However, the estimated costs of fitting these have since risen.
It is now believed that Mr Hammond favours reverting to ordering the Short Take Off, Vertical Landing variant of the fighter.