HMRC minister David Gauke defends unpaid internship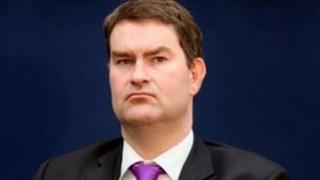 Treasury minister David Gauke has defended his decision to advertise a six-month unpaid internship.
He is in charge of HM Revenue and Customs, which recently threatened the fashion industry with prosecution if it failed to pay interns the minimum wage.
Gus Baker, from campaign group Intern Aware, accused Mr Gauke of hypocrisy.
But Mr Gauke, Conservative MP for South West Hertfordshire, said advertising for "a volunteer position" was "a perfectly reasonable thing to do".
In December, the HMRC wrote to fashion houses involved in London fashion week warning them they must pay the minimum wage - currently £6.08 an hour - to anyone aged aged 21 and over.
Michelle Wyer, from HMRC, said at the time those not complying could face a penalty and prosecution, adding: "Non-payment of the national minimum wage is not an option."
The crackdown was welcomed by Deputy Prime Minister Nick Clegg, who last year vowed to outlaw unpaid internships in Westminster.
'Reasonable travel expenses'
In an advert on the website work4MP,Mr Gauke says he is looking for a "voluntary intern" to work in his Rickmansworth constituency office "for a minimum of 6 months".
Duties include "administration, basic correspondence, diary management, fundraising, campaigning and related tasks", as well as "the opportunity to work one day a week in the Westminster office".
Under salary, the advert states: "None, but reasonable travel expenses will be paid."
It adds that "the successful applicant will have strong communication, IT and organisational skills and be sympathetic to the Conservative Party aims and beliefs", and the opportunity "would suit a student, recent graduate or similar".
Intern Aware said it was reporting Mr Gauke to the HMRC Pay and Work Helpline for non-payment of the minimum wage.
Mr Baker said: "Revenue and Customs have set up a hit squad to enforce the minimum wage for interns and yet the minister in charge is refusing to pay the people in his own office.
"David Gauke... is also putting an opportunity out of the reach of the vast majority of young people who can't afford to work for free.
"At a time of high youth unemployment when young people desperately need to demonstrate experience on their CVs, this is completely irresponsible."
Mr Gauke told the BBC News website: "It's advertising for a post for volunteers. Lots of people want to do it. It's good experience.
"It involves visiting my local Conservative Association, getting some experience of Westminster.
"I think that's perfectly reasonable and those that have had the experience of working there have enjoyed it and found it very good experience."
'Decrease social mobility'
The Low Pay Commission said on Monday that the number of unpaid internships was continuing to rise in industries including fashion, TV and politics.
Alison Clements, of law firm Lewis Silkin, said a number of key questions had to be asked about any such advertisement.
"Is the intern performing 'real' work for the organisation? Is the work integral to the business? Is the role for a significant duration (months rather than weeks)? Is the intern obliged to work fixed hours?" she said.
"If the answer to one or more of those questions is 'yes' then, unless one of the very limited exceptions in the National Minimum Wage Act applies, it is highly likely that the intern is entitled to be paid the NMW."
Lawyers working for the Department for Business, Innovation and Skills have also told its ministers that most interns are workers and entitled to minimum wage.
In advice to Ed Davey and David Willetts, BIS civil servants said that "any option that makes interns more likely to be unpaid, especially longer term ones, would effectively magnify existing barriers to the professions and decrease social mobility".
Earlier this month, the Independent Parliamentary Standards Authority increased the staffing budget for MPs by over £20,000.